Falklands/Panama 'friendship group' at legislative level is announced in Panama
Wednesday, October 23rd 2013 - 00:24 UTC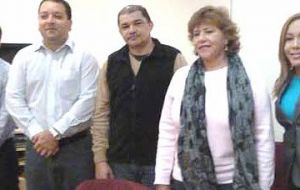 Following an initiative from a group of lawmakers that recently visited the Falkland Islands, the Panama National Assembly signed a resolution for the creation of an "Inter-parliamentary Friendship Group" between the Falklands and Panama.
According to the official communiqué the objective is to promote the cultural and diplomatic exchange between both legislatives and "work together in issues of mutual cooperation creating an official link".
Falklands' government CEO Keith Padgett, who happened to be in Panama City, received with great satisfaction the announcement and anticipated that the new Legislative Assembly, to be elected next 7 November will be most satisfied with the Panamanian assembly decision and "will continue to develop relations between the Falklands and Panama"
The initiative which was presented last September was signed by the National Assembly members who visited the Falklands, Dalia Bernal, president of the Foreign Affairs committee from the legislative and Yanibel Abrego from the ruling party; opposition member Renaúl Dominguez and the legal advisor of the committee Jorge Gante.
The Panamanian delegation visited the Falklands between 14 and 21 September when they held several meetings with Members of the Falklands Legislative Assembly and were received by Governor Nigel Hayward.
However the friendship group initiative also received criticisms. Constitutional expert Miguel Antonio Bernal described the announcement as "unbelievable, opportunistic and shameful" as well as the September visit of Panamanian lawmakers to the Falklands and contrary to Panama's long standing position on the issue.
According to Panamanian media comments the creation of the group, and 'implicit recognition of the Falklands elected government' breaks the Latin-American countries unanimous historic support of Argentina's sovereignty claims over the Islands and could be the first to back the principle of self determination for the Islanders.
Ironically the decision became public when leaders from Latin America, the Caribbean, Spain and Portugal met in Panama for the XXIII Ibero-American summit last week which in its final declaration reiterated support for Argentina and again acknowledged "the standing dialogue willingness repeatedly shown by Argentina" for a peaceful negotiated diplomatic solution to the controversy.