Four US super rich contributed 133 million dollars to the 2012 elections, says Wealth-X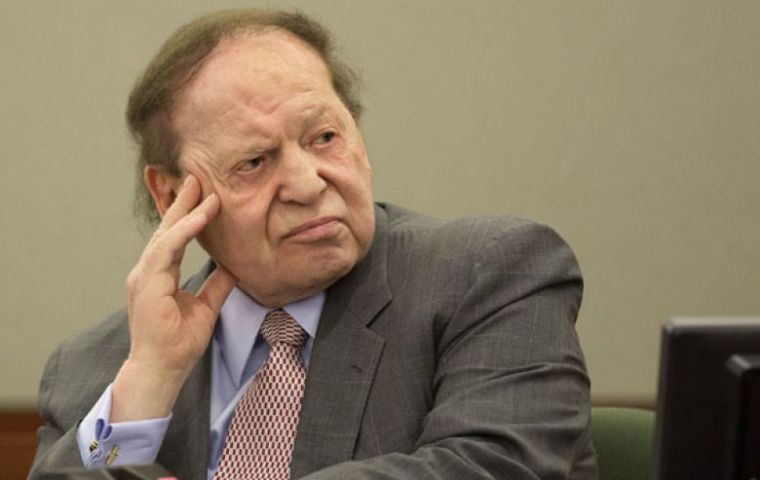 As the United States Supreme Court considers whether to remove limits on individuals' contributions to candidates, political parties and political action committees, Wealth-X released a list of the top five public political donors leading up to the 2012 elections and since then.
From December 2011 to December 2012, conservative-leaning business mogul Sheldon Adelson, CEO of Las Vegas Sands, along with his wife Miriam, were the top public donors with 96.4 million dollars in political contributions, equivalent to 0.42% of their estimated 23 billion dollars fortune.
Next on the list is multibillionaire Harold Simmons, chairman of the Contran corporation, along with his wife Annette, who donated 32.6 million dollars conservative candidates and causes, followed by media magnate Fred Eychaner, who gave 13.2 million dollars to liberal campaigns, amounting to 0.43% and 2.75% of their total net worth respectively.
Since the 2012 elections, political contributions have generally tapered off, but many ultra wealthy individuals continue to pour their money into politics.
The top public political donor from January 2013 to October 2013 was New York City mayor and business tycoon Michael Bloomberg. The political independent – who ranked fourth on the list of donors leading up to the 2012 elections – gave 2,3 million dollars of his 21 billion fortune to various candidates and causes in 2013.
Conspicuously absent from the list are notable US billionaire political donors such as brothers David and Charles Koch, the politically-conservative owners of oil, gas, and chemical conglomerate Koch Industries, and liberal-leaning financier George Soros.
Sources suggest that these individuals may channel their contributions through foundations or organizations that keep their donors' identities private.
Summing up the four super-rich: two conservative, one liberal and one independent, whose net worth is estimated at 53.9 billion dollars contributed over 133 million dollars.
For the full list, visit http://www.wealthx.com/articles/2013/wealth-x-reveals-usastop-public-political-donors/
Wealth-X is the definitive source of intelligence on the ultra wealthy with the world's largest collection of curated research on ultra high net worth (UHNW) individuals, defined as those with net assets of 30 million dollars and above. Headquartered in Singapore, it has 12offices in five continents. (www.wealth-x.com)