Petrobras with sufficient funds to operate Libra; denies need of fuels price increase
Wednesday, October 23rd 2013 - 21:21 UTC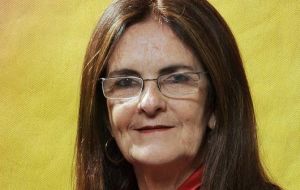 Petrobras has sufficient funds on hand to pay its share of a hefty Brazilian government fee for operations at the Libra offshore "pre-salt" oil field and won't need to request a fuel-price increase to meet the obligation, the company's president Graca Foster said on Wednesday.
Speaking after a meeting with Brazilian Finance Minister Guido Mantega, Ms. Foster told reporters that the company had the required 6 billion Reais (2.75bn dollars) available for the payment and that the company would be able to meet its funding obligations through the end of the year.
"Petrobras will be able to pay the 6 billion Reais without a fuel price re-adjustment," she said.
Petrobras and a consortium of four other companies, Shell, Total and Chinese state companies CNPC and CNOOC in bidding Monday won the right to explore for 35 years Brazil's massive Libra offshore oil field, estimated to contain upward of 8 billion barrels of oil equivalent.
The concession, however, will require payment of a 15 billion Reais fee known as a "signing bonus" before operations begin.
Ms. Foster said the investments required in Libra wouldn't be heavy for the first two or three years of production. The executive added that Petrobras' production was likely to increase beginning in the fourth quarter this year and that would also help boost the companies coffers.
Petrobras' financing capacity has come under scrutiny in recent quarters from analysts after disappointing earnings. The company is scheduled to report on third-quarter earnings on Friday.
Ms. Foster, meanwhile, said the company didn't have any expectations for when a fuels price increase might occur.
According to recent press reports, Brazilian Mines and Energy Minister Edison Lobao has suggested that government might authorize a fuels price hike before the end of the year to make local fuels prices competitive with those practiced internationally.
In related news Brazil's National Petroleum Agency says large reserves of oil are located off the coast of the northeastern state of Sergipe, representing a new frontier in petroleum development.
Agency director Magda Chambriard said Wednesday that numbers on how much oil is in the reserves would not be announced before 2016. Most of Brazil's oil production is concentrated in southeastern Brazil, where over the past several years billions of barrels of oil have been discovered in offshore reserves, mostly in deep, pre-salt fields.