Argentina takes full control of railway line following a second crash in 18 months
Thursday, October 24th 2013 - 07:19 UTC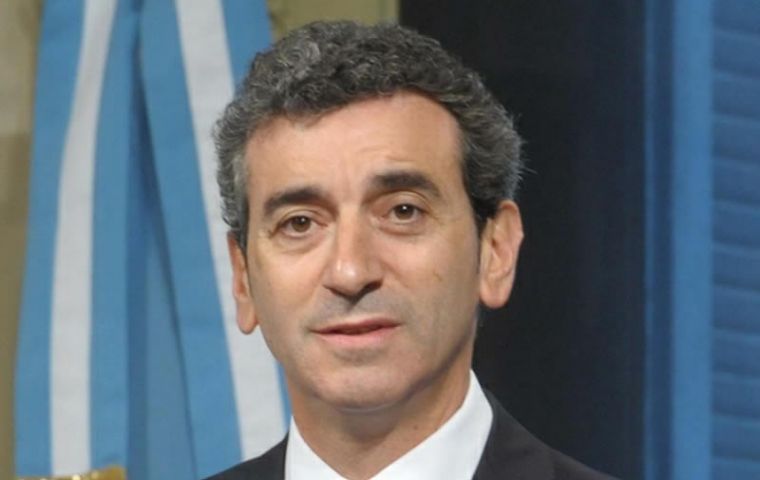 Argentina took full control of another railway commuter line following the latest crash last week that left over a hundred people injured at the same Once station where in a similar accident 18 months ago 52 were killed and dozens suffered serious injuries.
"The Sarmiento line will now be operated by state authorities and new security measures including breathlyser and psychophysical exams implemented by the Air Force will be enforced" announced on Wednesday Transport Minister Florencio Randazzo.
Randazzo revealed that on the day of the recent Once crash, the private unit in charge of physicals had "only carried out the breathalyser tests, without doing the rest of them, which were eventually re-implemented a day after the crash".
According to the Minister, union representatives explained this oversight "invoking an agreement between the company and the workers". In that sense, Randazzo urged the employees "to help us. We are on your side, and we stand before an historic opportunity".
Finally, Randazzo spoke to the families of the wounded ones saying that "we understand your pain, which we know is unexplainable".
The Sarmiento line will come under state control from Thursday and is the latest in a spate of nationalizations in the Argentine national and regional train network.
Last Saturday the Sarmiento commuter train slammed into the bumper at the end of the line at the same Once station in Buenos Aires where 52 people were killed in a similar crash last year.
On this occasion a mob quickly formed, unleashing its fury at the train operators. Officers intervened and the driver was soon hospitalized under police custody. Police in riot gear then took control of the Once station after the angry crowd broke glass and threw stones in the street outside.
Firefighters, police and medical personnel evacuated the wrecked train, but many passengers didn't wait, kicking out windows to escape cars whose doors were stuck.
In a further controversy apparently the disc from the security camera that recorded the accident was spoilt because of the impact
The Sarmiento line is the busiest commuter rail line serving Argentina's capital and is usually packed with passengers. The February 2012 crash killed 52 people and injured hundreds as the following cars crumpled. Saturday's accident caused less damage to other cars in the formation and happened shortly after 7 a.m. on a weekend morning, so the toll was not as severe.
Randazzo revealed that he had not informed President Cristina Fernandez of the accident or the decision to take over the line, because 'she is under strict medical orders to remain absent from all news" and "I know the president has the same line of thinking in this issue".
"The president was not notified. I made the decision to take over tthe line and I assume full responsibility, with all the risks involved. If it works out wrongly, I will have to step down and leave government" said Randazzo.