'Parallel dollar holiday' in Argentina until after Sunday's election is anticipated
Thursday, October 24th 2013 - 07:54 UTC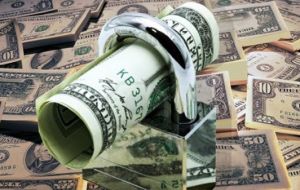 Despite a full-fledged crackdown on the 'cave-exchanges' in the financial sector of Buenos Aires the 'parallel' US dollar ended Wednesday trading as on the previous day at 10.05 Argentine Pesos while the official rate stood at 5.82 Pesos (buying price) and 5.87 Pesos (selling price).
However volumes were much smaller and traders anticipate that given the display of inspectors and police, and Sunday's mid-term election, the so called parallel market will not operate until probably next Monday or even Tuesday, when the 'climate' will be different and new measures could be announced.
"The Messi dollar (10) came to stay but we are not going to challenge the 'parallel holiday' imposed by expectations created by the government", said one of the 'cave exchange' operators.
Precisely demand for greenbacks increased ahead of Sunday's election for tourism and overseas travel which is seen as one of the targets of the exchange and monetary policy to be implemented as of next week by the government of President Cristina Fernandez.
The gap between the official and parallel rate of the US dollar remains steady above 75%, despite the fact that the currency legally traded in banks and money exchange houses has increased 18.9% in the ten months of the year.
The Central bank daily report shows that it had a net loss of 70 million dollars to keep the official rate in the range of 5.85 Pesos to the greenback.
According to the Buenos Aires financial media there seems to be two different approaches at Argentine government level for the day after Sunday's mid-term election. One of them is to close the gap between the two dollar rates, by accelerating depreciation of the official rate, which should help to ease demand from Argentines wanting to travel overseas and also make it more attractive for investments.
Another more conservative approach wants to further increase the dollar clamp and implement a double money exchange market making it dearer to buy dollars for travel and leisure and imports, but at the same time encourage exports and the influx of greenbacks.
In support of this speculation, securities regulator Alejandro Vanoli admitted that some restrictions for the purchase of dollars "might have to be reviewed" because some Argentines are forced to go to the parallel market.
Vanoli underlined that the dollar parallel market "is not that large, but it's true it generates great expectations". He recalled that operations with foreign currency are illegal and thus a crime, and blamed "part of the Argentine establishment for the problems with the US dollar: they are betting on a hefty devaluation".