All South Georgia licensed vessels must comply with the Torremolinos Protocol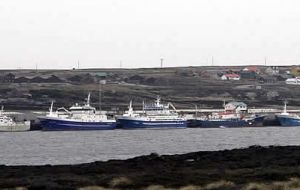 As part of an initiative to ensure all licensed fishing vessels are of a good standard, the Government of South Georgia and South Sandwich Islands, GSGSSI, are undertaking inspections of all vessels to check their compliance with the Torremolinos Protocol on Fishing Vessel Safety, reports the latest edition of the South Georgia Newsletter.
The Torremolinos International Convention for the Safety of Fishing Vessels was adopted in 1977 but, for technical reasons, never came into force. It was superseded by the 1993 Torremolinos Protocol and more recently, by the Cape Town Agreement of 2012 on the Implementation of the Provisions of the 1993 Protocol relating to the Torremolinos International Convention for the Safety of Fishing Vessels, 1977.
All UK flagged vessels are inspected for compliance with the Torremolinos Protocol as part of their standard Maritime and Coastguard Agency (MCA) safety inspection. For non-UK vessels GSGSSI have called upon the services of specialist consultant Cedric Loughran, who is the former head of Fishing Vessel Safety at the UK MCA, to undertake the inspections.
The inspections focus on the safety of the vessel, vessel maintenance and the suitability of the living and working quarters. A typical inspection involves a thorough check of the ship's papers, a full tour of the vessel to look for any safety issues and the witnessing of a safety drill.
This season in South Georgia all the toothfish longliners were inspected either before the season started or during mid-season off-load. All six vessels passed the inspections and Mr Loughran was impressed with standard on all the vessels. All four icefish vessels were also of a high standard and passed their inspections with no deficiencies.
Arranging inspections for the krill trawlers has proved more challenging, as the vessels apply for licences at short notice. So far four krill vessels have been inspected. Of these two passed without any issues. A further vessel was required to address minor issues in the engine room and crew's washrooms, whilst one vessel failed the inspection. Two other vessels are due for inspection in October.
For the 2014 season all vessels must have been inspected prior to receiving a licence to fish in the SGSSI Maritime Zone. Once a vessel has passed muster, she will not need to be inspected again for 2 years.