Alleged 'secret clause' in YPF/Chevron shale agreement triggers strong controversy in Argentina
Friday, October 25th 2013 - 06:16 UTC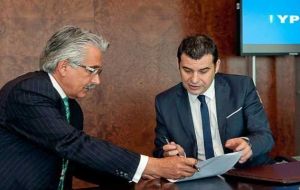 A New York Times piece published on Thursday regarding the agreement between Argentine nationalized oil and gas company YPF with California based Chevron has triggered a strong controversy in Argentina because of an alleged "secret clause" in the commercial document.
The piece "An odd alliance in Patagonia" quoting non identified sources states that the YPF-Chevron agreement to develop the rich oil and gas shale deposits in Patagonia includes compensations for risks and potential losses for the US company. In effect after the company invests 1.2 billion dollars, 18 months later it can withdraw from operations without penalty and continue to receive net profits of 50% of the production from the initial wells in perpetuity.
As expected in a strong release YPF denies any 'secret clauses', and the terms of the agreement with Chevron as published in the NYT, and supports it with quotes from the joint press conference on 29 August by YPF CEO Miguel Galuccio and Chevron regional vice-president Ali Moshiri.

"Neither YPF or the Argentine government are extending any kind of coverage to Chevron for possible losses" and the "capacity to withdraw in 18 months time, is a decision that must be taken by the US company and was clearly explained by CEO Galuccio at the press conference".
Finally if Chevron withdraws it can continue to collect royalties from the initially drilled wells but only until the Loma Campaña concession finalizes", which apparently is in November 2048. It also denies any assured prices or a dollars deposit as an investment guarantee for Chevron to collect profits.
Follows the NYT piece which triggered the controversy.
An Odd Alliance in Patagonia
By Simon Romero and Clifford Krauss
NEUQUÉN, Argentina — On the windswept Patagonian steppe, crews of roughnecks are drilling around the clock in pursuit of a vast shale oil reservoir that might be the world's next great oil field.
But that ambition hinges on an improbable alliance between the American oil giant Chevron and Argentina, a politically volatile country with a history of hostility toward foreign investors. What brings them together is the dream of an enormous bounty from the field, called Vaca Muerta, or Dead Cow.
President Cristina Fernández de Kirchner's decision to press ahead with the partnership with Chevron has her critics and supporters fuming because of the company's long conflict with Ecuador over an Amazon pollution case. Other legal battles are raging over Argentina's nationalization of its largest oil company, which also threaten to entangle Chevron.
And protests against hydraulic fracturing, the high pressure blasting of water and chemicals through the shale fields here in the Patagonian desert, have grown so fierce that the police have cracked down on thousands of demonstrators with tear gas and rubber bullets. Though Chevron is not directly involved in the fracturing, the popular agitation over the company's venture here may subject other energy initiatives in this remote region to greater scrutiny.
Mrs. Kirchner's embrace of Chevron is a striking demonstration of the lengths to which some governments, desperate for money, and energy companies, combing the world for new sources of oil, will go to emulate the shale oil revolution in the United States.
And few fields offer the potential riches of Vaca Muerta, which has estimated oil and gas reserves nearly equal to the total reserves of the oil giant Exxon Mobil.
"There is nothing close to this in the world," Ali Moshiri, president of Chevron's Africa-Latin America Exploration and Production, said of Vaca Muerta in an interview. "In our business risk is part of the equation."
Even with her health in doubt, after surgery this month to drain a blood clot that resulted from a head injury, Mrs. Kirchner has shown that she is willing to turn her back on years of economic policies that discouraged some energy investments. In the process, she is testing relations with her Ecuadorean ally, President Rafael Correa, who is trying to get Chevron to pay 19 billion dollars in damages related to oil pollution in the Amazon rain forest.
Chevron's assets in Argentina were frozen for months last year as the Ecuadorean plaintiffs in the case began increasing pressure on the company outside Ecuador. Chevron not only continued to operate in Argentina after that initial scare, but also opted to aggressively expand here, reflecting a vital need by big oil companies to find new oil reserves even in the most politically unstable places.
The United States Energy Information Administration has ranked Argentina fourth behind Russia, the United States and China in the world, with technically recoverable shale oil reserves of 27 billion barrels. And it ranks Argentina second after China in potentially recoverable shale gas reserves, with 802 trillion cubic feet. But as in many countries outside the United States, shale development in Argentina had progressed at a snail's pace until now because of resistance and regulatory uncertainty. Local opposition among environmentalists and Mapuche Indians remains fierce.
"This is the worst form of extracting oil by the company with the worst record," said Enrique Viale, the president of the Argentina Association of Environmental Lawyers, who took part in a protest of thousands against the agreement with Chevron in August when legislators were voting on it. Some buildings in Buenos Aires, the capital, remain covered in anti-Chevron graffiti. A rap video on social media in Argentina excoriates the authorities for working with Chevron.
Despite all the friction, Chevron took the leap a year ago with a tentative partnership agreement with YPF, the Argentine oil company that is now controlled by the government, to help develop part of Vaca Muerta. In control of a third of the field, YPF is also preparing agreements with several other companies including Bridas Corporation, a venture including the China National Offshore Oil Corporation, or Cnooc.
Chevron initially plans to invest 1.24 billion dollars for the drilling of more than 100 wells, and if all goes well, the Chevron-YPF venture would drill an additional 1,500 wells by 2017, requiring more than 17 billion in investment. That could raise production to 50,000 barrels of oil and three million cubic meters of gas a day over 35 years.
Few companies have had the moxie to wager so much since Argentina defaulted on its 81 billion dollars sovereign debt in 2001. President Cristina Fernandez de Kirchner renationalized YPF last year, and has yet to compensate the Spanish oil company Repsol any money for its controlling interest, which Repsol says was worth 10.5 billion.
Pointing to these challenges, Miguel Galuccio, the chief executive of YPF, insisted in an interview that the future of Argentina's economy depends on YPF's ability to develop the nation's shale oil resources.
Surprising critics of Mrs. Kirchner who expected her to politicize YPF, as her government had done with other state-controlled companies, Mr. Galuccio seems to have taken a different approach. He has hired respected managers and petroleum engineers, many of them Argentines who were living abroad, to fill YPF's top ranks. And he has begun to reverse a decline in YPF's production, repositioning the company to focus on fracturing in Neuquén which he argues will not jeopardize local water supplies.
In the interview, he lauded Chevron for its partnership with YPF, saying he was well aware of the risks, including Chevron's legal battles in Ecuador, which persist. "This brings a level of complexity I'd like not to have," he said. "We need more Chevrons in Argentina."
Facing a potential financial crisis, the Argentine government reversed course on energy policy in recent months as it has often done in the past.
It is now allowing companies to sell gas at a higher fixed price, and in a move especially for Chevron, Mrs. Kirchner recently issued a decree allowing oil and gas companies to sell 20% of their production abroad without paying export taxes or obligations to repatriate profits — as long as they invest more than 1 billion dollars in the country.
Still, Chevron faces enduring problems in Argentina, highlighted by pressure from the country's most influential journalist, Jorge Lanata, an outspoken critic of Mrs. Kirchner who has been attacking Chevron's record in Ecuador.
Soon after Chevron and YPF signed their initial deal in 2012, two lower courts threatened the arrangement by freezing part of Chevron Argentina's assets in the country so they might eventually be sold to pay the Ecuadoreans who are suing Chevron.
Lawyers representing Ecuadorean Amazon Indians won a judgment in a local Ecuadorean court ordering Chevron to pay more than 18 billion dollars in damages for the dumping of toxic waste into a vast area of Amazon jungle by Texaco in the 1970s before it was acquired by Chevron years later. (Chevron insists that Texaco cleaned up its area of operations and subsequent pollution was caused by PetroEcuador, the state company that once partnered with Texaco.)
Since Chevron has no assets in Ecuador, the plaintiffs are trying to collect on the judgment in Canada, Brazil and Argentina, where Chevron subsidiaries have significant holdings.
When the case reached the Argentine Supreme Court, Mrs. Kirchner threw her support behind Chevron despite the lobbying of President Correa of Ecuador, an ally who has publicly declared that the oil company is an enemy of his country. Her attorney general filed a brief with the court arguing that the Ecuadorean judgment could not be enforced against Chevron Argentina since the subsidiary could not defend itself in the Ecuadorean proceeding, warning that the Supreme Court needed to act to avoid "irreparable and irreversible harm to essential national interests."
The Supreme Court agreed with the government in a June decision, opening the way to the final Chevron-YPF agreement signing in July. But lawyers for the Ecuadorean Indians say they are not finished in Argentina.
The lawyers said that the Supreme Court decision was merely a technical problem that could easily be corrected by returning to the Ecuadorean courts in the coming months to file a petition seeking to execute the original judgment against Chevron Argentina and possibly other foreign subsidiaries. Once they succeed, they say, they will demand that Argentine courts accept the Ecuadorean judgment under reciprocal legal treaties.
"I am certain the case is still alive in Argentina, of course," said Pablo Fajardo, the lead Ecuadorean lawyer. "I believe the Supreme Court in Argentina made a mistake and should correct it. I have confidence in their judges."
Kent Robertson, a Chevron spokesman, responded: "They have demonstrated they can get whatever they want in Ecuador. It doesn't mean they can collect. There has been no trial against Chevron Argentina."
Argentine oil officials said that the Chevron-YPF deal will shield the American company from financial loss connected to a change in the political winds. After the company invests 1.2 billion, 18 months later it can withdraw from operations without penalty and continue to receive net profits of 50% of the production from the initial wells in perpetuity.
Mr. Moshiri of Chevron said he was not focused on the Ecuador case. "That's a separate issue unrelated to what we are doing in Argentina and in the Vaca Muerta," he said. "We are just going to continue with our business. Chevron Argentina has nothing to do with it."
Still, the legal battle is just one of the obstacles that both companies face.
"We'll continue our fight to defend the land, the water and the air" pledged Lefxaru Nahuel, 26, a Mapuche in Patagonia who has been leading protests. "With fracking, there is no future for us here."
Simon Romero reported from Neuquén, Argentina, and Clifford Krauss from Houston. Jonathan Gilbert contributed reporting from Buenos Aires.