Argentina will deploy 91.000 security officers for Sunday's election
Friday, October 25th 2013 - 06:13 UTC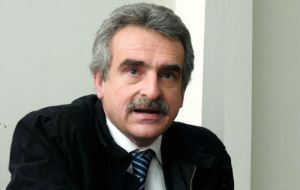 Ahead of Argentina's midterm elections of next Sunday, 27 October, which have not been absent of acts of violence against candidates and militants, the Defense Minister has announced that more than 91,000 security officers will be deployed across the country's 24 districts to watch over polling day.
"A total of 91,671 officers from the Armed Forces, Security and provincial police will take part in the operation," the official statement by the office ran by Minister Agustín Rossi reads.
There will be 13,209 voting stations and 90,696 ballot boxes. Furthermore, "5,000 prowl cars, 8 helicopters, 2 aircrafts and 7 vessels" will be operating on Sunday with the Defense ministry guaranteeing "the security" at all 243 prisons in Argentina where inmates will be casting their ballots.
Rossi also revealed that to reach distant outposts the Argentine Army and Gendarmerie will appeal to 80 mules to ensure protection on Election Day.
"It is the mission of the General Electoral Command to preserve and guarantee order during the elections through the Armed Forces and security forces and to coordinate and execute the security measures providing vigilance at voting stations," the document finally adds.
Operational commands will be established at the Ministry of Defense, headquarters of the Army and from the Joint Chief of Staff, in Campo de Mayo military base and a 'tactical' on a vehicle. The ministry will use the Army's communications and cyber systems.