European Parliament gets tough on fishing industry and conservation
Friday, October 25th 2013 - 02:21 UTC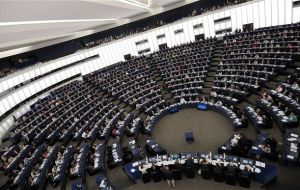 The European Parliament voted Wednesday to reject most new subsidies for the saltwater fishing industry and provide financial support for new ecologically friendly measures meant to prevent overfishing. But in a nod to commercial fishing fleets, the lawmakers did maintain some handouts to the industry.
The vote in Strasbourg was on a 6.5 billion Euro budget to finance the European Union's Common Fisheries Policy for seven years beginning in 2014. Legislators rejected a proposal favored by the fishing industry to subsidize the construction of new boats and backed a call by conservationists and scientists to provide better funding for research on fish stocks and enforcement of conservation-minded regulations.
The fishing industry won on some points, including subsidies for vessel owners to replace their engines with more modern models — something opponents argued amounts to a de facto increase in fishing capacity, since the new engines are often more efficient and thus can keep vessels at sea longer. Legislators also agreed to provide payments to fishermen to hang up their nets temporarily, which might reduce overfishing in the short term but which conservationists fear could create a reserve army of unemployed fishermen instead of permanently reducing capacity.
Maria Damanaki, the European fisheries commissioner and a proponent of conservation measures, said she nonetheless was "pleased with the overall outcome of the vote" and noted that it cleared the decks for final negotiations by Parliament, member-countries' fisheries ministers and the European Commission on the deal. She expressed hope that an agreement would be reached in time for money to start flowing in January, although industry experts in Brussels suggested that the target might be hard to meet.
Europe's fishing fleet is two or three times larger than is ecologically and economically sound, according to the European Commission. Revisions of the Common Fisheries Policy aim to bring the fleet's capacity into line with a sustainable level of fishing, with all stocks meant to be managed according to the scientific principle known as maximum sustainable yield by 2015.
Environmental organizations described Wednesday's results as a mixed bag. Markus Knigge, policy adviser to the Ocean2012 coalition and the Pew Charitable Trusts, said Parliament had improved on the positions put forward by national fisheries ministers, who are generally closer to industry.
"They have significantly strengthened fisheries management," Mr. Knigge said, pointing to the increased funding for data collection, control and enforcement. But legislators "failed to show ambition for fundamentally abolishing subsidies that contribute to overfishing."
Javier Garat, president of Europêche, a fishing industry group in Brussels, said that he was "happy with the main issues" decided Wednesday but that "we still have some uncertainties."
This year is the first in which Parliament has an equal voice in the setting of fisheries policy with the 28 member states and European Commission, the executive arm of the bloc.
Parliament voted on more than 600 amendments Wednesday, and in some cases it will be up to the body's legal department to explain the final result, Mr. Garat said.
On one measure that the industry had strongly supported — a proposal to provide aid to vessel owners who decommission their boats — legislators actually approved contradictory measures, Mr. Garat said, simultaneously approving continued scrapping while denying the necessary funds.
Mr. Garat said he was also happy that Parliament had voted to provide "temporary cessation" aid to fishers who halted operations to give depleted stocks time to recover. But he said that the industry would look to ensure that such funds were also extended in cases where access to foreign waters is cut off, as has happened in Morocco in a human rights dispute that has idled Spanish fishermen on about 70 ships.