Cartes pledges motivation and support for those who help create wealth and jobs
Saturday, October 26th 2013 - 00:39 UTC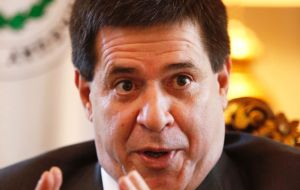 President Horacio Cartes said on Friday he wanted "a reliable and serious Paraguay, full of self esteem" taking advantage of the good economic times and pledged motivation and support for all those who help generate wealth and jobs for the country. However he also admitted that Paraguay has serious failings, "but problems are challenges and opportunities".
Addressing a forum of business people, diplomats and media at the end of his one day visit to Uruguay, President Cartes came through as a real salesman for Paraguay and the bag of opportunities that the fastest growing economy in the region has to offer with trained manpower, accessible credit, unbeatable low energy prices, which "Brazilian manufacturers have discovered and are coming, so please Uruguayans make true the opportunities".
Cartes referred to what happened with his country's auto-parts industry which is booming and creating jobs: one first Brazilian company 'discovered the opportunities and favorable conditions' and was followed by several other suppliers, "and we can say that for certain parts Paraguay is fully integrated to the Brazilian auto industry, but I also admit their numbers scare me".
However "what really turns me on is like in Europe, when people say that they have worked so many months for the government and now are beginning to work for themselves, this won't happen in Paraguay, on the contrary those who generate wealth and jobs for the country will always be motivated, take the word of this president", underlined Cartes.
"We have the land, climate, resources and the people, 75% are 39 or younger, but that is not enough: we also need to have self esteem and to motivate and sponsor those who create wealth, because that is the essence for a productive country. Sure also taxes, but to finance an efficient state"
The President said Paraguay, as its neighbors, has become a 'food factory' and future in this field in unlimited; the country has 14 million head of cattle; it's among the world's leading soy exporters, "we have two and a half harvests annually and the potential to treble our agriculture production", and thus the invitation to more Uruguayan farmers to invest in Paraguay.
Cartes also emphasized the strategic position of Paraguay as the "heart of South America" and the fact it is one of the few countries in the world with energy surplus. But "although we are the heart it's not beating: we don't have the necessary arteries and veins because we haven't developed our waterways, our rivers, and for this we need to sit and talk because it will be for the benefit of all".
"As a landlocked country we depend on the Paraguay river for 85% of our global links, but it desperately needs dredging because vessels have to sail half full. However there are four neighboring Brazilian states, with far more cattle and soybeans than Paraguay, that need access to the Pacific or some other ports because in Brazil terminals are clogged, in some cases fifty kilometers queues waiting to load", said Cartes.
"So problems are also opportunities and challenges. The western states of Brazil need Paraguay to get to the Pacific or our waterways to reach the River Plates and Uruguayan ports. You have the ports and we charge the toll for sailing down our rivers" pointed out the Paraguayan president.
But Cartes also admitted some of the failings of his country: "Yes we have deforested the country and now we need to reforest, eleven million hectares and Uruguay can help us with your expertise. You've been planting trees for over two decades and have pulp mills so you can help us recover our forested land".
Likewise Paraguay needs desperately infrastructure: Cartes revealed that only 11% of the population has access to sewage, 45% to drinking water "and we are sitting on one of the world's largest reserves of water, the Guarani aquifer".
Furthermore "it doesn't matter how good our macroeconomics are, how much more we produce, how much more we export, we can't live next to 40% of poverty and 18% of extreme poverty, much less if we are a food factory", insisted the president who pledged his administration is going to address the problem.
"For too long the political system and the business community have given their back to the poverty situation, that will change and it will also help reunite Paraguayan families; too many Paraguayans had to leave their country, but in a prosperous growing ambience I expect them to return, because I know they love their country".
In similar terms Cartes revealed that although Paraguay is one of the few countries in the world with power surplus from two huge hydroelectric dams, Yaciretá (shared with Argentina), and the largest in the world, Itaipú (shared with Brazil) and a third totally Paraguayan, "the country has no Energy Plan, no long term planning" and then added that when flying into Uruguay "I saw those white wind mills on your hills and may I remind you, the many Uruguayan cattle farmers who have land in Chaco that winds there are quite steady, 40,50, 70 kilometers so hopefully in five, eight years when these wind mills are cheaper, we'll also see then in the north of Paraguay".
Finally insisting with 'self esteem' and 'motivation for wealth creators', Cartes recalled that Paraguay is larger than Germany, which has 85 million people and Paraguay only six million, ('we have no snow but 2.5 crops annually'), which gives an idea of the opportunities which the country offers particularly in the current world scenario.
"We need to sit and talk, and as I agreed with President Mujica, what we don't do, others will, so it's time we start to think together" underlined Cartes who then recalled that the Itaipú dam the largest in the world was born out of a border dispute between Paraguay and Brazil.
President Cartes speech was preceded by presentations from Paraguayan Economy Minister Geman Rojas and the capital Asuncion mayor Arnaldo Samaniego. Earlier in the day Cartes held a meeting with Uruguayan president Jose Mujica and members of his cabinet which was stamped into a joint communiqué.