Brazilian ex-president to be exhumed to determine if he was poisoned by the military regime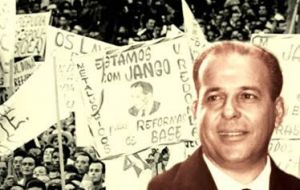 The remains of ex-president Joao Goulart will be exhumed next month to determine whether he was poisoned during his exile in Argentina in the 1970s, Brazil announced on Monday.
One day after the November 13 exhumation, the remains, currently in a family mausoleum in Sao Borja in the southern state of Rio Grande do Sul, will be transferred to Brasilia to receive the full state honors which Goulart did not get when he died, Human Rights Minister Maria do Rosario said.
"It's the duty of the Brazilian state to shed light on the circumstances of the death of president Joao Goulart," the official Agencia Brasil quoted her as saying.
The exhumation will be conducted at the request of the late president's family which has long pressed for a probe of his death. Experts from Argentina, Uruguay and the International Committee of the Red Cross will take part in the exhumation.
Popularly known as "Jango", Goulart served as president from 1961-1964 and was ousted in a military coup. He took refuge in Uruguay and Argentina, where he died on 6 December, 1976.
The official account says the cause of death was heart attack. However the death occurred after lunch when the healthy Jango started to complain about stomach pains. There was no autopsy and his body was flown back to Brazil to the family's pantheon.
The military went on to rule in Brazil from 1964-1985. The military regimes of the time in the southern cone were concerned that the popular Jango was holding a round of political contacts which could threaten stability.
In March 1964, although he had support from some divisions of the Army he decided against armed conflict among Brazilians and took exile in neighboring Uruguay. He owned farms both in Uruguay and Argentina.
In 2008, former Uruguayan intelligence officer Mario Neira said while in detention in Brazil for arms trafficking that Goulart was poisoned by Uruguayan operatives at the request of Brazilian military rulers.
His allegation that Goulart died following a swap of the heart medication he was taking has not been confirmed. But the National Truth Commission tasked with probing crimes perpetrated under the military dictatorship, has said the body's examination would help shed light on the case.
A rich farmer from south Brazil, young Goulart had been Labor minister of Getulio Vargas, the most popular and loved Brazilian president last century.