In a further step to normalize relations Paraguay names new ambassador to Venezuela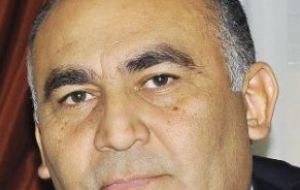 Paraguay has named veteran diplomat Enrique Jara as new ambassador in Venezuela, giving a further step towards the full normalization of relations that had been interrupted since July 2012 when the two countries expelled their respective accredited staff.
Foreign affairs minister Eladio Loizaga confirmed on Tuesday to the local media the name and said that it was only pending the signature of President Horacio Cartes.
Future ambassador Jara is currently president of the National Committee on Limits, which depends from the foreign ministry.
Earlier in the month Venezuelan foreign minister Elias Jaua visited Paraguay and said he carried the name of the proposed candidate for ambassador in Asuncion, which was not revealed.
Paraguay and Venezuela, both Mercosur members, expelled the staff of their respective embassies in July last year when then President Federico Franco accused Caracas of interfering in Paraguay internal affairs. It was a rough time because in June the Paraguayan congress impeached Fernando Lugo and had he removed from office.
Mercosur and Unsaur claimed a congressional coup and suspended Paraguay from both organizations, but Mercosur went further and incorporated Venezuela as full member ignoring the group's charter.
Paraguay never accepted such incorporation and is committed to return to Mercosur but demands a legal solution to the problem, since the Paraguayan congress voted against Venezuela, and any new inclusion must be adopted in consensus and attendance of all members, which did not happen.
"It's an issue for the experts: for the diplomats to find a way out" said President Cartes during a recent visit to Montevideo. "The only demand from Paraguay is rule of the law, respect for international law and for the Mercosur charter".