A Pope, two presidents, a businessman and a drug baron, the Latin-Americans that made it to Forbes list
Thursday, October 31st 2013 - 18:39 UTC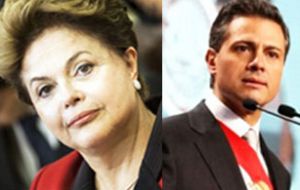 Pope Francis ranks as the fourth most powerful person in the world and the most powerful Latin-American, according to Forbes' annual Most Powerful in the World List which this year had Russian President Vladimir Putin ranked number one ahead of President Barack Obama and the General Secretary of the Communist Party of China Xi Jinping, number three.
Only four other Latin Americans made it to the list: two presidents, one of them a woman; a businessman among the richest in the world, and the leading drug trafficker, El Chapo, head of the Sinaloa cartel.
Forbes' "Most Powerful" list is an annual snapshot of current heads of state, financiers, philanthropists and entrepreneurs in the world. Forbes' editors measure their power along four dimensions — the number of people they oversee, the financial resources controlled by each person, how many spheres they have power over, and lastly if they are actively using their power.
This year, Pope Francis became the first Jesuit and Latin American to lead the Catholic Church
According to Forbes, the 76-year-old Argentine pope is the spiritual leader of 1.2 billion Catholics, or about 1/6th of the world's population. He has also "breathed new energy" into the Church by encouraging followers to practice humility, compassion for the poor, a greater role for women while signaling the church to quiet its focus on "only on issues related to abortion, gay marriage and the use of contraceptives," and embracing social media with more than 3 million followers.
This year, Pope Francis ranked higher than only four other Latin Americans on the list, which totals 72 powerful people: Mexico's honorary chairman of América Móvil, as well as a stake holder of the New York Times– Carlos Slim — ranked number 12; Brazil's President Dilma Rousseff, who will be leading Brazil as it hosts the World Cup in 2014 is the second most powerful woman in the world who ranked number 20 in the "Powerful People" list; Mexico's President Enrique Peña ranked number 37; and the world's most powerful drug trafficker, CEO of the Sinaloa Cartel Joaquin Guzman Loera — otherwise known as "El Chapo" — who is responsible for an estimated 25% of all illegal drugs that enter the US via Mexico is ranked number 67.