US with the lowest federal budget deficit since 2008: surplus in September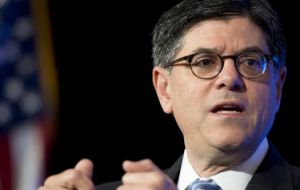 Tax increases, spending cuts and a stronger economy nearly sliced the United States budget deficit in half in fiscal 2013, reducing it to the lowest level since 2008, Treasury Department data showed. The federal government took in 75.1 billion more than it spent last month, leaving the deficit for the fiscal year, which runs from October to September, at 680 billion, down from 1.09 trillion in 2012.
Washington took in about 80 cents for every dollar it spent over the year. The deficit widened sharply during the 2007-09 recession, which hit tax revenues and increased payments for unemployment benefits. Higher tax receipts accounted for about 80% of the deficit's reduction, the Treasury said in a statement.
The budget gap has fallen at its fastest pace since World War II over the last four years, Treasury Secretary Jack Lew said.
"Congress must build on this progress by crafting a pro-jobs and pro-growth budget agreement that strengthens the economy while maintaining fiscal discipline," Lew said in the statement.
Many economists, including those at the International Monetary Fund, believe US austerity measures over the last few years have hampered economic growth.
In September, the government took in 301 billion in revenues, about 40 billion more than in September 2012. Revenues rose 13% over the full fiscal year.
Federal spending rose 21% in September from a year earlier, although Treasury officials noted that some major benefits payments fell outside their regular periods in recent months, skewing the figures. For the full fiscal year, spending declined 2%.