Falklands' Assembly candidates discuss 'personality clashes' in the legislative of a small community
Friday, November 1st 2013 - 13:52 UTC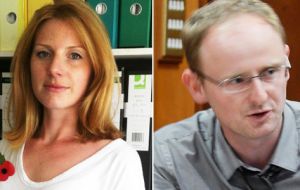 Personality clashes in an elected assembly of a small community where virtually everybody knows each other, such is the case of the Falkland Islands and its almost 3.000 residents, was one of the issues discussed during an electoral debate ahead of the 7 November General Election chaired by the local radio station, FIRS, and Penguin News.
"It was obvious during the last assembly that there were personality clashes between members and there appeared to be the danger that these differences were affecting decisions being taken.
If elected, how would the candidates ensure that there is effective decision making, even if they did not get along with other members", asked Stacy Bragger from FIRS to the candidates attending the debate.
Lynda Buckland began by commenting: "Like any walk of life, you don't always get on with the people you work with, but at the end of the day you have to get on and do your job."
Gavin Short said there always would be personality clashes and difference of opinion, "and this is what a consensus Government is all about." In the last assembly when it came down to a vote he had been on both the winning and the losing side. "If the vote is lost you don't hold a grudge, you just get on with it."
"Your responsibility is to them, country," said Mike Summers, "and the people you are representing and that is what has to be understood. If you allow personal differences to get in the way of decision making then you have failed your constituents."
Melanie Gilding felt personalities made a better government: "You're never ever going to get eight people sitting around a table who agree on everything and if they did that wouldn't be good for the country." She was sure everyone who was elected would be able to be professional enough, "to put any personality clashes to one side." Pull as many across to your way of thinking to push through what you want, was her opinion. "You're not going to win everything and I'm sure no one holds any grudges or they shouldn't do," she concluded.
Michael Poole said: "Discussions in relation to open government relate to this in a way too. If discussions are taking place in the open and you have a chance to put your personal view across to the public you won't retain the frustration of being outvoted behind closed doors, because that shouldn't happen anymore."
Personalities shouldn't come into it felt Candy Blackley: "You're elected to represent the people so you do that to the best of your ability. Discussion and debate are healthy and if you don't get the end result you were hoping for you get a better case together and present it again."
Mike Summers commented that a lot of the responsibility for ensuring decision making in public lay with the Chair of a meeting.
"If there is something in the closed section of the meeting that shouldn't be there, then put it in the open section. "The purpose of the Chair is to keep the meeting in order and if someone is being unduly rude or holding up normal business because of a personal issue, it's up to the Chair to deal with it."
Teslyn Barkman also stressed that personal issues should not get in the way of underlying business.
"Whatever you think of your colleagues and some of their activities it should not affect decision making," was Jan Cheek's view.
She added: "Decisions should be based on the facts, advice and your belief in what is best for the Falkland Islands. Sometimes people are so passionate about the point they are trying to make that they can't accept that they have been outvoted and that can be difficult at times."
National interests first, said Phyl Rendell, a sentiment Norman Besley-Clark agreed with, while John Birmingham added that "now it has been decided MLAs would be full time the electorate would expect more MLAs to act in a more professional manner and that means putting the country before personalities."
Birmingham said what would be voted in next 7 November was a "coalition of individuals" and it had to be accepted that you do not get your own way all the time.
"If anyone allowed petty differences to get in the way of decision making there was something very wrong somewhere", concluded Faith Felton. (PN)