US appeals court rules in favor of Argentina; rejects lift of stay requested by hedge funds
Sunday, November 3rd 2013 - 03:18 UTC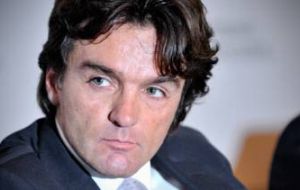 A US appeals court said on Friday it would leave a freeze in place on an order requiring Argentina to pay 1.33 billion dollars to bondholders suing for full face repayment in the wake of the country's 2002 default.
The 2nd US Circuit Court of Appeals in New York denied a motion to lift a stay it had issued in favor of Argentina pending US Supreme Court review of a ruling for the holdout bondholders in August.
The request to lift the stay was made October 15 by bondholders led by hedge funds NML Capital Ltd, a unit of Elliott Management Corp, and Aurelius Capital Management LP. The case is one of many lawsuits filed by bondholders after Argentina defaulted on 90 billion dollars sovereign debt in 2002.
"The court's order confirms that the legal procedures pursued by Argentina are right and we ratify that Argentina will exercise its defense in all available judicial bodies," Argentine Finance Secretary Adrian Cosentino said in a statement.
"Judges didn't consider hedge funds claims over the path proposed by Argentina to guarantee debt holders a normal payment," he said. "We will now wait for pending resolutions and then for a presentation at the US Supreme Court."
In two restructurings, creditors holding about 93% of Argentina's bonds agreed to swap their bonds in deals that gave them 25 to 29 cents on the dollar. But bondholders who did not participate in the restructurings, including NML and Aurelius, sued for full payment. The litigation was filed in New York under the terms of the bond documents.
In 2012, US District Judge Thomas Griesa ruled Argentina had violated a clause requiring the equal treatment of creditors. The 2nd Circuit largely upheld that order, a decision the US Supreme Court recently declined to review.
As part of its October 2012 decision, the 2nd Circuit sent the case back to Griesa to clarify how the injunctions he had issued would function. Griesa issued a new order last November that required Argentina to pay 1.33 billion into a court-controlled escrow account in favor of the holdout bondholders.
The 2nd Circuit upheld that decision, but stayed its impact pending a second appeal by Argentina to the US Supreme Court.
The United States Supreme Court last month left Argentina's appeal in its battle with hedge funds out of its first list of cases to accept as part of its 2013-2014 agenda, which based on the court's usual practice, may mean that the court will decline to hear the case or that it will ask the Obama administration to weigh in on whether the dispute is worth the court's attention.
The Obama administration backed Argentina in the lower courts but has not indicated where it stands now that the case is before the high court.
The Supreme Court's refusal to get involved means litigation in lower courts continues, with Argentina able to seek high court review again at a later date when there is a final ruling in the appeals court.