Shelving of Pascua-Lama mining project in the Andes conditions Barrick Gold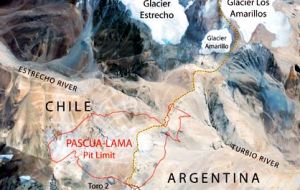 A massive public share offering from Barrick Gold Corp proved a tough sell, market sources said, as the price of gold dropped and investors digested news that the miner had shelved a key growth project
In effect the Canadian company announced it was shelving its massive Pascua-Lama gold-silver mine, high in the Andes on the border between Chile and Argentina.
Barrick said it would issue up to 3.45 billion dollars worth of common shares at 18.35 a share in a deal to pay down part of its heavy debt load. Shares of the world`s biggest gold producer closed 34 cents below the offer price on Friday.
Pascua-Lama had been a key growth project for Barrick but also a drain on its cash reserves.
Barrick`s New York-listed stock closed down 7.1 percent at US$18.01, its lowest level in more than two weeks. Shares of precious metal miners were broadly lower as the price of gold fell to a three-week low.
The weak reception for the offering does not affect the price Barrick receives for its shares. It could hurt the deal`s underwriters, led by RBC Capital Markets, Barclays and GMP Securities LP.
The deal should help relieve worries about Barrick`s debt, which totaled 15.4 billion dollars on September 30. The company's market capitalization was about 19.5 billion at Thursday`s close.
But there is a cost. The offering, coming as Barrick's stocks fall more than 40% this year, badly dilutes existing shareholders, increasing the company's share count by more than 15 percent.
And it is the company`s second multi-billion dollar equity offering in only a few years. In 2009, Barrick raised some 3.0 billion at 36.95 per share, so it could eliminate its gold price hedges.