Falklands 'Falkstock' festival organized by Polar Latitudes and Sulivan Shipping
Saturday, November 9th 2013 - 12:51 UTC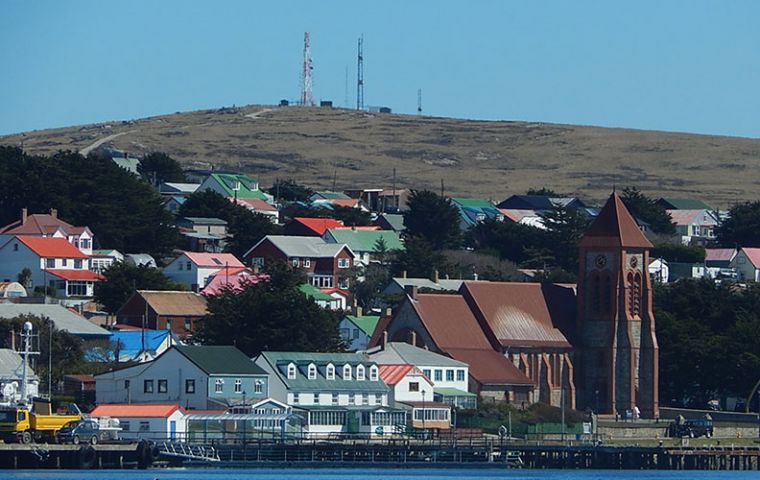 Working in conjunction with Sulivan Shipping expedition cruise company Polar Latitudes has announced plans for the First Annual Falkland Islands Music Festival (Falkstock) to be held in March as a celebration of the end of season.
Director of Expedition operations Ian Michael Shaw said he felt Stanley was under appreciated as a community by many expedition cruises and as a result, set out to organize an event that would give his passengers and the Stanley population a chance to get to know each other better.
Working with local agents Sulivan Shipping, the event is planned to take place on March 7, at the Town Hall. A night of live bands, highlighting local talent, admission is free with a suggested donation to the Stephen Jaffray fund, with the compliments of Polar Latitudes.
Sulivan Shipping's Tourism Coordinator Samantha Marsh said the company was, "absolutely delighted" to be working with Polar Latitudes on this project.
In addition Polar Latitudes is founding a Falklands Scholarship in Expedition Cruising to provide opportunities to the young people of the Falklands. Polar Latitudes hopes to run the scholarship in perpetuity and for at least five years. Since Stanley has no postsecondary education, candidates between 18-29 showing personal achievement and an interest in Antarctica will be accepted, said Mr. Shaw.
Polar Latitudes, its board of directors, and expedition team are very excited to be able to offer this opportunity and would like to extend their sincere appreciation to Samantha Marsh and Sulivan Shipping for their continued support, he added.
The scholarship includes a trip to Antarctica, South Georgia, Ushuaia, and Punta Arenas on board Sea Explorer with insurance and expenses paid with on the- job training and supervision in expedition cruising related skills; environmental protocols, safety training, itinerary planning and hospitality, plus coaching in securing a seasonal job with an IAATO operator.
"The scholars will be overseen by an experienced Expedition Leader and our team which includes many accomplished scientists and academics," said Mr. Shaw. There will be one scholarship available every spring beginning November 2 to 22.
One letter from the applicant highlighting their enthusiasm for the role and two letters of reference will be judged by a committee of Polar Latitudes, Sulivan Shipping and a local educator.
Applications are to be submitted before February 7, to Samantha Marsh at Sulivan Shipping. The winning applicant will be announced at the Falkstock event on March 07. (PN)