Suriname president's son charged in US with providing support for terrorist groups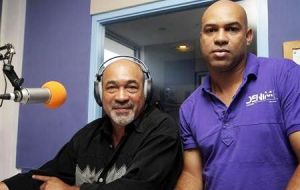 The son of Suriname's president has been charged by the United States with attempting to provide material support to a foreign terrorist organization. Dino Bouterse was allegedly paid millions of dollars to provide a base and weapons for Hezbollah fighters.
The Shia militants were planning attacks on the US and the Netherlands, Suriname's former colonial ruler, US prosecutors say.
The son of President Desi Bouterse was extradited from Panama in August. He had already been charged with trying to smuggle cocaine and weapons into the United States. Mr Bouterse could be sentenced to life in jail for the drugs and weapons smuggling charges and to up to 15 years for the terrorism-related accusations.
The Suriname president's son insists he is innocent, but his lawyers have not yet reacted to the latest charges. The US authorities say they have recorded meetings of Mr Bouterse with undercover agents and informants posing as Hezbollah operatives in Panama and in Greece.
"Alleged criminals like Bouterse and his facilitators pose a direct threat to the safety and security of the United States," the administrator of the US Drug Enforcement Administration, Michelle Leonhart said.
At a meeting in Greece, Mr Bouterse reportedly accepted 2 million dollars to help Hezbollah fighters settle in Suriname, give them passports and arm them with surface-to-air missiles and other weapons. He reportedly told them he would present within two months a list of the weapons he could provide.
Mr Bouterse was arrested in Panama in late August, while travelling on a diplomatic passport, and quickly handed over to the US authorities. He was sentenced to eight years in prison in Surinam in 2005, after being found guilty of trafficking in drugs, weapons and stolen luxury cars. But Mr Bouterse was released three years later for good behavior and was later named director of Suriname's Counter Terrorist Unit.
His father, Desi Bouterse, a former coup leader, was elected president of Suriname in 2010. He was accused of numerous human rights violations in the 1980s but was given immunity by parliament in 2012. In 2000, President Bouterse was himself convicted in absentia of drug trafficking by a court in the Netherlands. He has always denied the charges.
Suriname has moved politically to South America (and Brazil's sphere of influence) and is a member of Unasur, the Union of South American Nations, and has applied for incorporation to Mercosur.