Despite Forbes/ JP Morgan, Bachelet guarantees continuation of 'Chilean economic miracle'
Monday, November 11th 2013 - 12:44 UTC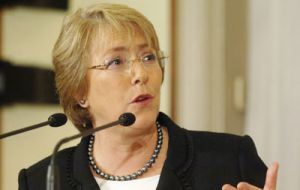 On the brink of Chile's presidential elections, 17 November, US business magazine Forbes has published an article warning voters that electing Michelle Bachelet of the Socialist Party (PS) would put an end to the Chilean "economic miracle."
Published last Monday and written by Chilean El Mercurio columnist and executive director for the free market think-tank Fundación para el Progreso, Axel Kaiser, the article entitled "Is this the end of the Chilean economic miracle?"" comes despite a recent JP Morgan Latin American Equity Research report saying it was "positively surprised" with the former president's "moderate" policy platform. The opinion piece sparked both anger and bemusement among some Chilean commentators and political scientists, and even one Forbes editor.
Describing November's vote as potentially "the most important election" since that which brought about the return of democracy in 1990, the article praises the right-wing Independent Democratic Union (UDI) candidate Evelyn Matthei, while citing some conservative opponents who accuse the former president Bachelet's of "following the populist path" of late Venezuelan President Hugo Chávez.
"For the first time in more than two decades, the Chilean people will choose between two opposing economic and social projects," the article reads. "On the one hand, the center right candidate Evelyn Matthei promises to continue Chile along the successful economic path of the last decades. And on the other hand, former president Michelle Bachelet's new socialist platform promises to make radical changes to the current Chilean economic system."
Though the article was run as an Op-Ed piece, it was personally endorsed by Forbes CEO and Editor-in chief Steve Forbes, who wrote of his concern for the "free market bastion" via Twitter.
Forbes could not be reached for comment by The Santiago Times, however it appears not everyone in his staff shared that enthusiasm: Forbes Asia editor Tim Ferguson was among the dozens to leave comments on the article questioning the author's argument.
"This may be addressed in the long stream of earlier comments here, but it would be useful for the author to address why Bachelet's second government would be strikingly different from her first, which falls in the period he describes as more free-market," the comment reads.
Others questioned the depiction of Chile's presidential race — which includes nine candidates — as one between two opposing ideologies as simplistic and misleading, accusing the author of drawing erroneous links to another former PS leader, Salvador Allende, who was ousted in a bloody coup in 1973.
"This is an embarrassingly biased, simplistic and frankly idiotic account of the current Chilean situation," wrote María Berríos, sociologist from the Universidad de Chile. "To base the current election on the dichotomy Allende government vs. Dictatorship and their 'corresponding' economic models, is like basing the Republican / Democrats differences on Cold War issues, or tracing the recent impasse as an aftermath of the Bay of Pigs crisis. Frankly ridiculous and sadly poor editorial criteria. Not even liberal, just dumb."
Guillermo Larraín, an economics professor of the Universidad de Chile also rejected Kaiser's claims that a second Bachelet administration would pursue a more radical agenda then the first, which ran from 2006-2010.
"From the perspective of a developed country, Michelle Bachelet's program is completely mainstream," Larraín told The Santiago Times. "[Her reforms] are not extravagant, they are entirely moderate … I don't see the radicalism of which [Kaiser] speaks."
Kaiser responded to his critics in an interview with The Santiago Times, qualifying his article and elaborating on why he sees a second Bachelet term as posing a threat to the country's economic stability.
"I was not saying that if Michelle Bachelet is elected, which is the most likely outcome, then we will necessarily have an end in the Chilean economic miracle," he said. "What I said was that if Michelle Bachelet was elected and all these ideas to create a massive welfare state in Chile, to increase taxations on corporations, to replace the current constitution and to intervene in the educational system, to overtake it by the government, and so on and so forth are implemented … then we will see the end of the Chilean economic miracle, there's no question about it."
Kaiser said that these reforms would weaken the country's institutions, but provided one caveat. "This question is: will she do this when she's elected, or will she follow a more moderate path?" he said.
While Kaiser's fear is that Bachelet will implement radical campaign promises, some on Wall Street expressed relief that she has not swayed drastically from an established policy path and that her program holds "no major surprises."
Authors of a recent report by leading equity researcher J.P. Morgan were relatively positive in their assessment of Bachelet's recently announced policy platform. Though not endorsing all her social policies, the report applauded her economic policies, noting its emphasis on economic growth and "pro-market ideas."
"Despite not having a concrete action plan behind some of the ideas, it does address the concepts of: Increasing potential GDP growth, focus on innovation, fiscal responsibility (with the goal of returning to structural balance in 2018), promoting new electricity generation projects, among others," the report reads.
Larraín went further, arguing Bachelet's proposed economic reforms mirror those made years ago by developed nations that, far from being damaging, would be required to give new impetus to the Chilean economy.
"In no case [would Bachelet's reforms impede foreign investment], on the contrary what they would do is generate conditions to give a new impulse to development for the next 25 years," he said. "That is, over the last 25 years, Chile experienced a very important period of growth and development, but what we've seen in the last few years is an exhaustion of this process."
For Sergio Micco, political science professor at Universidad de Chile, another key flaw in Kaiser's argument was that, while it praised the reducing poverty and increasing per-capita income, it did not address the high levels of inequality he argues has been generated by the country's economic growth.
"The Chilean model has been successful in obtaining economic growth and reducing poverty, but failed to redistribute the fruits of the natural resources," Micco told The Santiago Times. "If Michelle Bachelet doesn't undertake social and economic changes, Chile's miraculous economic growth, as well as its social peace and political stability, could be at risk. Therefore, the reasoning should be the exact opposite of what [Kaiser argues]."
Tackling economic equality is a challenge the secretary-general of the Organization for Economic Co-operation and Development (OECD) Angel Gurría issued to Chile during a recent visit to the country.
In a speech made in Santiago on Oct. 23, Gurría praised Chile's economic performance, attributing it to sound macroeconomic policies, inflation control and a consolidation of a healthy financial sector, though warned that more needed to be done to combat woeful equality levels.
"Despite the progress it has made, Chile still presents some glaring inequalities," Gurría said. "In fact, Chile displays the greatest inequality gap in the OECD, together with Mexico. The average income of the wealthiest 10% in these two countries is 27 times that of the poorest 10%, in other words, a ratio of 27 to 1. By contrast, the OECD average is around 10 to 1."
By Clémence Douchez-Lortet - The Santiago Times