Gay-friendly Madrid chosen to host World Pride International celebrations in 2017
Monday, November 11th 2013 - 23:43 UTC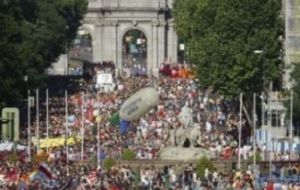 In Madrid, it seems like summer only really sets in on International Gay Pride Day, which is followed by the Gay Pride celebrations. In 2014, they will take place from July 2-6. The streets in Chueca are lined with flags and garlands, and the neighborhood fills up with open-air bars, while the main squares host live music performances
The main event takes place on Saturday: the parade in favor of LGBT rights, which every year attracts a growing number of people from all over the world and in 2014 will be held on July 5.
Chosen to host 2017 World Pride, Madrid boasts one of the world's most legendary Gay Prides. Proof of this is that in both 2009 and 2010, the city was voted Best Annual Gay Destination by fans of MTV's Logo channel.
The entire Chueca neighborhood which is located a few meters from Gran Via and is the epicenter of the festivities, is a good example of the tolerance and respect typical of a modern, open, and cosmopolitan city. It is open to a whole range of lifestyles creating a combination that is fun and spontaneous, to say the very least. These festivities are not only celebrated by the homosexual community, they are a favorite among people who want to live their lives freely. Proof of that fact is that instead of calling them the "Gay Pride festivities," Madrilenians refer to it as "the Pride festivities."
A Gay Pride Parade, as well as open-air concerts, chairs and tables out on the streets, multitudinous events, and the madness typical of Chueca nights, MADO is also a week packed with cultural and protest activities programmed as part of the MUESTRA-T festival, hosted by different art galleries, cinemas, bookshops, and associations that support the cause. In all, it is festivity for all tastes - for both those who want to plunge into nocturnal frenzy, and those who prefer to peacefully enjoy the day. (Source: Madrid Visitors & Convention Bureau).-