Paraguay normalizes relations with Venezuela and Brazil; Bolivia next
Wednesday, November 13th 2013 - 06:49 UTC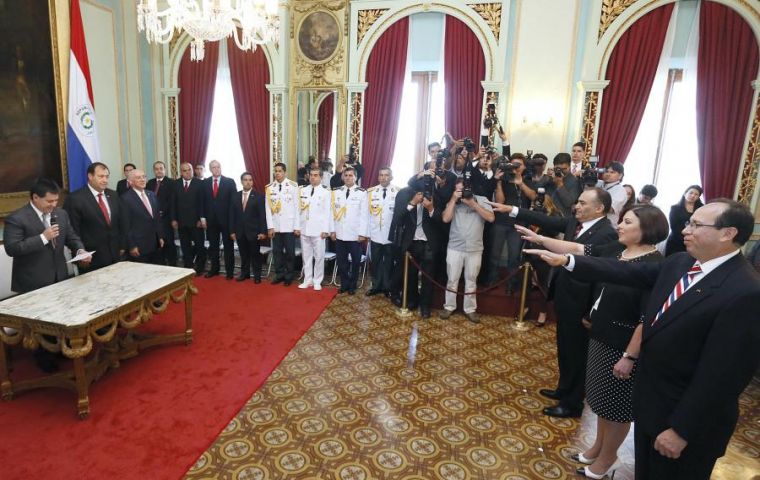 The new Paraguayan government of President Horacio Cartes is rapidly formalizing relations with its Mercosur partners. On Tuesday the ambassador that will represent the country in Venezuela, Enrique Jara took the oath of office, which in fact means full normalization of relations with the country ruled by Nicolas Maduro.The ceremony at Government House in Asunción was headed by President Cartes and cabinet members.
"I'm pleased with the job tasked, re-opening our embassy in Caracas and giving priority to all those bilateral issues pending: trade, energy, culture", said Jara, adding the resumption of a fluid political dialogue with Venezuela.
Jara is a professional diplomat who joined the foreign ministry in 1980 and has had posts in Brasilia, Costa Rica, Nicaragua, Honduras, El Salvador, Panama and Bolivia.
President Cartes also took the oath of office to Elisa Mercedes Ruiz Diaz who will be Paraguay's representative before the Organization of American States in Washington.
Equally important on Tuesday the Paraguayan government received the credentials from the new Brazilian ambassador Jose Martins Felicio, thus fully re-establishing relations with the government of President Dilma Rousseff.
"This is extremely important in the framework of bilateral relations with Brazil" said Paraguayan foreign minister Eladio Loizaga.
Paraguay has already sent its ambassador to Brasilia, Manuel Maria Cáceres who was deputy foreign minister. Paraguay had no Brazilian ambassador since the political crisis and removal of Fernando Lugo in June 2012
Minister Loizaga also announced during the ceremony that next 18 November the Bolivian foreign minister David Choquehuanca will be visiting Paraguay, where he is scheduled to meet with President Cartes.
Loizaga said that one of the issues of bilateral talks will be the re-establishment of ambassadors in Asuncion and La Paz, currently vacant. Paraguay and Bolivia 'cooled' bilateral relations following the suspension of Asuncion from Mercosur and Unasur, because of the removal of Fernando Lugo.