Abstention won Chile's Sunday election, but it's also a vote: rejecting the political system
Wednesday, November 20th 2013 - 21:15 UTC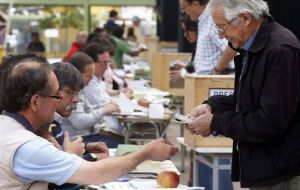 Chileans went to the polls Sunday and chose to send Michelle Bachelet and Evelyn Matthei to a runoff election with 46.7% and 25% of the vote respectively, but abstention far outstripped them both — less than half the number of voters on the electoral roll cast a vote.
The electoral roll numbers approximately 13.6 million eligible voters, of those the Electoral Service (Servel) tallied 6.7 million cast votes. According to those numbers, only 49.3% of voters participated in the first presidential election held under the newly implemented voluntary voting system.
President Sebastián Piñera, whose administration authored that electoral reform, lamented the low voter turnout in a speech he delivered at the La Moneda palace Sunday night.
Siding with those who argue Servel's electoral roll overestimates the eligible voting pool significantly, Piñera nonetheless was disappointed that just "56%" of an "estimated 12 million Chilean voters" made it to the polls.
Political analyst at the independent Tresquintos polling institute Kenneth Bunker told The Santiago Times that the 12 million voter figure referenced by Piñera, though not the official figure, is a number used by multiple political parties.
According to Bunker, Servel's sloppy filtering system considerably inflates the number of eligible voters by mistakenly including some deceased voters, Chileans abroad who are constitutionally barred from voting and double entries.
Regardless of whether 49.6 or 56% of Chileans voted, the 2013 first round vote set a new record for both the lowest number of overall votes cast and the percentage of electorate who turned up on election day, which has been on the decline since 94.7% of 7.7 million eligible voters came out for the first presidential elections since the return to democratic elections in 1990.
Before January, 2012, voting was mandatory but many did not enroll. In 2012 municipal elections, the first to be held under the voluntary vote, automatic enrollment system, a meager 41% of eligible voters to the polls.
Universidad Católica political scientist Alfonso Donoso explained that low participation in Sunday's election, while typical of countries with a voluntary vote, in some cases indicates a conscious, political choice.
"The participation last Sunday was low, but not any lower than the majority of countries with a voluntary vote," he told The Santiago Times. "Reasons why people did not vote are numerous — lack of motivation, lack of resources, lack of political interest — but it shouldn't be forgotten that to not vote can also be understood as a political act, an act rejecting the ruling class and the political structure of the country."
Donoso was concerned that low voter participation could increasingly undermine the electoral process' legitimacy, but does not champion a return to the mandatory vote.
"Low turnout can lead to a legitimacy problem in the long term," he said. "However, that does not mean that the solution to this problem is compulsory voting. Legitimacy cannot and should not be imposed through the coercive force of the law."
Speaking on election eve, Piñera hoped that calling on the civic duty of Chileans would see voters turnout in greater numbers for the election's second round. "All freedom comes with responsibility," he said. "I hope that in the election next Dec. 15, we can achieve a much higher participation rate among our compatriots.
By Emily McHugh – The Santiago Times