Brazil agriculture in state of emergency following infestations of Helicoverpa caterpillar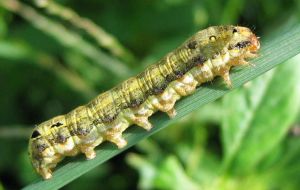 Infestations of the Helicoverpa caterpillar in Brazil's grain belt prompted the agriculture ministry this week to declare a state of emergency in the leading soy state of Mato Grosso, highlighting the potential risk to large parts of the crop.
The ministry's head of supply, Antonio Andrade, also declared an emergency in the state of Bahia, a smaller but important producer state where difficulty controlling pests caused financial losses for producers last year.
State governments will draw up guidelines for dealing with the pest that is believed to be a serious threat to crops.
Production costs in areas where the caterpillar is most prominent are going to rise for farmers as fighting the pest often involves multiple applications of insecticide and destruction of plant material that host to the caterpillar.
Brazil, one of the world's biggest exporters of soybeans and corn after the United States, is nearly finished planting what is expected to be a record soy and bumper corn crop that will start harvest in early 2014. The caterpillar can also destroy cotton crops.
Smaller than a human thumb, and with a knack for ploughing through soy, corn and cotton, the Helicoverpa has been terrorizing Asia, Australia and Africa since the 19th century. In India and China, some 50% of pesticides are used to kill the caterpillars. But they hadn't appeared in South America until last year. In response, Brazil's agriculture industry recently approved the importation of more powerful pesticides to fend off the menacing insects, but plenty of damage has already been done: The tiny caterpillars cost Brazil an estimated 4.7 billion dollars last summer alone. Outbreaks have been reported in as many as 21 different states throughout the country.
Even global soybean giant Monsanto is sweating the many-legged crop muncher. In a call with investors earlier this month, chief technology officer Robert Fraley acknowledged that the pests are a "top-of-mind topic for both ourselves and for the growers," and added that Monsanto has plans in place to deal with the caterpillars. "We'll be in a position before the end of the decade to have multiple-mode-of-action products in that marketplace."
While the infestation has yet to affect Brazil's soy or other grain prices, it's already increasing production costs where the caterpillar is present, since farmers have to apply several layers of insecticide and, potentially, destroy large swaths of infested plants. If the problem persists, however, the effects could spill over to Brazil's soy and corn supplies, and subsequently to global grain prices.