Cristina Fernandez most emblematic and faithful "K soldier" sent to Italy
Wednesday, November 20th 2013 - 05:22 UTC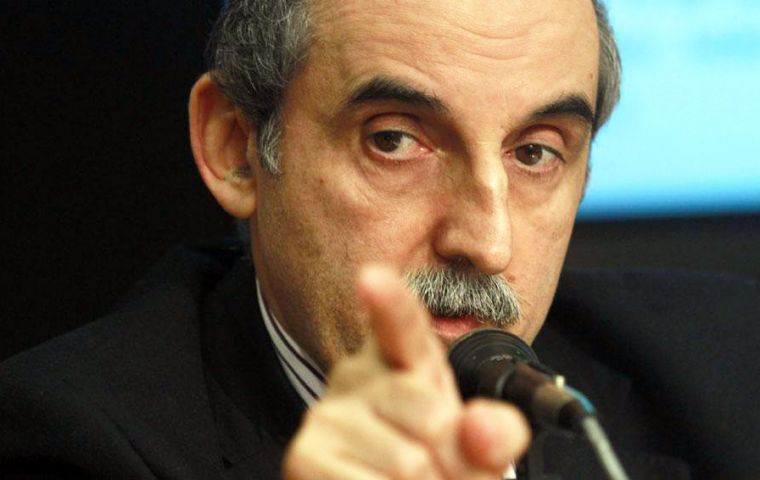 On Tuesday, one day after resuming her Executive duties, Argentine president Cristina Fernandez accepted the resignation of the most emblematic of the Kirchner-couple bullying tactics, a true 'K soldier' who has been on the job since 2005 and was expected to step down with the lady in 2015.
As of 2 December Guillermo Moreno will no longer be Interior Trade Secretary and his next post is in Rome as economic advisor of the Argentine embassy. The announcement was made at Government house by the presidential spokesperson Alfredo Scoccimarro.
The man responsible for keeping inflation under control, be it by manipulating stats, challenging or imposing fines on those who released indexes different to the officially supported, or calling on business leaders very early morning to his office to question them on prices with a loaded gun on his desk, had become a symbol, feared symbol, of all that which is wrong or not working under Cristina Fernandez.
The dollar clamp and the end to savings in dollars in Argentina were lobbied and openly argued by Moreno.
But his removal was so unexpected that both incumbents and opposition were not completely sure how to react or how much they could actually cheer.
The fact is that Moreno' removal also means a greater concentration of power for the newly appointed Minister of Economy, Axel Kiciloff, considered ideologically closer to Marx than to Keynes and most probably will further advance on the Argentine economy.
Moreno had also mingled in foreign policy, sponsoring trade missions to extravagant destinations such as Angola; interrupting shareholders assembly of multimedia Clarin, the archenemy of the Kirchners, or banning imports, or trying to make corporations to buy the latest whitewash bonds or simply suspending grains, beef or dairy produce exports to privilege the domestic market.
The removal, given his conflicting personality, style and public opinion impact, is thus more significant than that of a minister, and the big question remains, why was he demoted and why not announced when the main cabinet reshuffle?
It could mean a government change of policy or putting the blame of the adverse 27 October post-election government weakness. Markets however had no second thoughts about the naming of Kiciloff and removal of Moreno, who were to a point tactical allies in the infighting of Cristina Fernandez cabinet.
On Wednesday when Kiciloff is sworn in as minister, together with the other names for cabinet chief, central bank president and Agriculture minister, among others a clearer picture will emerge.