Falklands' aquaculture advances with development of brown trout pilot farm
Thursday, November 21st 2013 - 18:34 UTC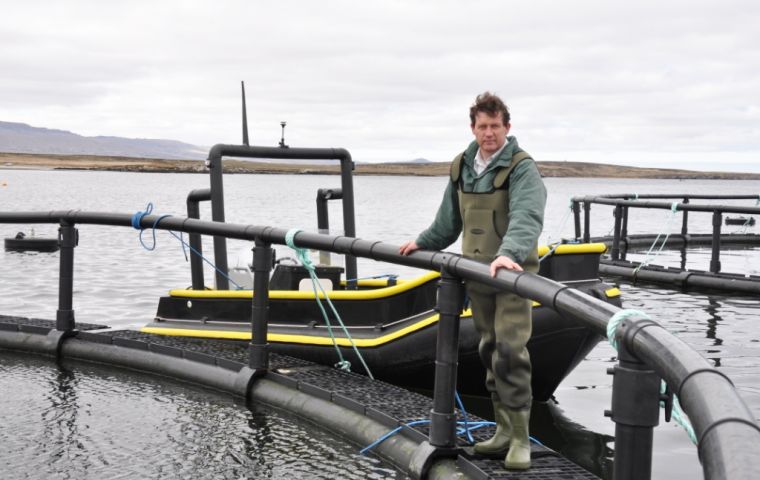 One of the Falklands leading Seafood Companies, Fortuna, has invested in a pilot brown trout farm facility in the Falkland Islands. The project is lead by Simon Hardcastle, a Falkland Islander with experience of fish farming both in Scotland and in earlier projects in the Islands.
Simon recently arranged the purchase and installation of sea pens, ancillary equipment and a specialist vessel to work the pens which have been installed in Fitzroy Sound.
The 'Aquaflex' pens were sourced from Fusion Marine, and other equipment including transport tanks, crowding ring, handling nets, navigation lights and mounting system, as well as solar powered automatic feeders came from Kames Fish Farming, who also provided expertise to assist in the installation of the farm.
Simon has established a small recirculation hatchery using eggs sourced from wild caught fish. He has managed to produce 10,000 high quality brown trout smolts, which have now been transferred to the two Fusion Marine Aquaflex pens in Fitzroy sound.
The Smolts are doing well. There is some concern about the possibility of seals predating on the fish and for this reason predator nets have been sourced and will be fitted shortly.
The aim of the project, which includes the construction of a small EU standard processing plant, is to take the fish through all stages: to learn about the challenges of operating the hatchery, fish husbandry and growth rates in the Islands, plus processing. The product could then be sold at commercially viable prices on the local and international market.
Contact: Simon Hardcastle - email h@cwimail.co.fk
Source: Fortuna