"Corruption is the thief of economic and social development", says UN
Tuesday, November 26th 2013 - 10:04 UTC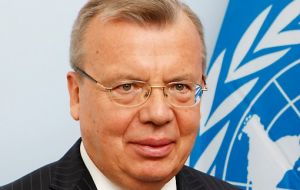 The world's largest biennial gathering of delegates in the global fight against corruption opened in Panama on Monday with the United Nations top crime fighter warning that the scourge not only hobbles sustainable development but generates other crimes.
"Corruption is the thief of economic and social development; stealing the opportunities of ordinary people to progress and to prosper," UN Office on Drug and Crime, UNODC, Executive Director Yury Fedotov told the opening meeting in Panama City of the Fifth Session of the Conference of States Parties to the UN Convention against Corruption (UNCAC).
"Without corruption and bribery, millions of women, children and men cannot be trafficked as slaves; thousands of small arms cannot reach their violent destinations; and tons of illicit drugs cannot reach their consumers."
Adopted 10 years ago, UNCAC is the only legally binding universal anti-corruption instrument, now has 168 States Parties, and has gone further than any other UN Convention through its unique review mechanism that, after four years, has trained more than 1,400 anti-corruption experts and provided assistance to 35 States to amend their legislation. More than 1,500 participants are attending the five-day meeting.
Corruption has a devastating impact across the world. The World Bank estimates that every year between 20 billion to 40 billion dollars are lost from developing countries due to corruption and bribery.
The environment also suffers. Water infrastructure costs, for example, are increased by as much as 40% through corruption, which equates to an additional 12 billion a year needed to provide worldwide safe drinking water and sanitation.
Mr. Fedotov stressed that it would take everyone's voice raised against corruption to bring true success. "We need a robust and strong coalition of Governments, business community, civil society, academia and media to resist corruption, and build a culture of prevention and integrity," he said.
Participants at the meeting include representatives of Member States, civil society, private sector academia and the media, who will discuss best practices and successes in the fight against corruption under the umbrella of the Convention.
An entire chapter of the treaty is dedicated to preventing corruption with measures directed at both the public and private sectors, including model preventive policies, such as the establishment of anti-corruption bodies and enhanced transparency in the financing of election campaigns and political parties.
States must ensure that their public services are subject to safeguards that promote efficient, transparent recruitment based on merit. Public servants once recruited should be subject to codes of conduct, requirements for financial and other disclosures and appropriate disciplinary measures.
UNCAC requires countries to establish criminal and other offences to cover a wide range of acts of corruption, if these are not already crimes under domestic law. Countries are bound to render specific forms of mutual legal assistance in gathering and transferring evidence for use in court, and to extradite offenders.
Asset recovery is a fundamental principle of UNCAC, a particularly important issue for developing countries where high-level corruption has plundered national wealth and where resources are badly needed for reconstruction and the rehabilitation of societies. In the case of the embezzlement of public funds, the confiscated property would be returned to the State requesting.