Falkland Islands Holdings sales up despite slowing down of the Islands economy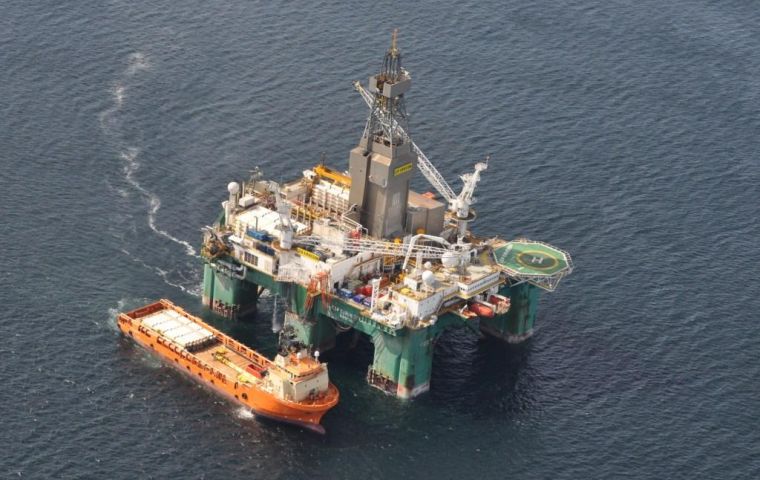 Falkland Island Holdings PLC announced on Monday that its pre-tax profit increased slightly in its first half as strong sales at the company's London-based Momart operations offset increased costs at its Falkland operations. The international services group, which focuses on transport and logistics, said its underlying profit before tax was up 14.8% to £ 1.37 million for the six months ended September 30 compared to £ 1.19 million the previous year.
The company said its sales increased 4.4% to £17.2 million from £16.5 million, as FIH saw a 12% increase in sales at its London-based art storage and transport company Momart to £ 8.2 million, but much of this was offset by a 2.7% decline in sales to £ 6.8 million from £ 6.9 million at the company's flagship Falkland Islands retailing, property and transport services organisation, Falkland Islands Company.
The company said this was the result of the Falklands economy slowing down following the departure of the Leiv Eiriksson drilling rig in December 2012. Retail sales fell by 6.9% to £4.2 million with warehouse sales impacted by the absence of the rig. West Store sales were down by 5% but the company said that a more aggressive pricing policy at Homebuilder saw its sales increase by 33%.
The company said that with pressure on margins from local competitors and increased labor costs the decline in retail profitability accounted for most of the reduction in the FIC's contribution. Rental income from FIC's property portfolio also fell as a result of the decrease in oil activity.
On a positive note for the company, automotive sales increased by 37% to £1.1 million as the Group benefitted from the recent investment in Falklands 4x4. FIC's Fishing Agency also enjoyed improved performance linked to a strong illex squid catch.
Falkland Island Holdings has a 4.0% holding in Falkland Oil & Gas Limited and said that FOGL's joint venture with Desire Petroleum PLC in the North Falkland Basin should have a positive impact on profitability. Falkland noted it will have exposure to a five-well drilling program expected to commence in late 2014.
The company said it expects near-term growth prospects to be slow until onshore oil services activity gains momentum but that medium- to long-term growth prospects remain exceptional.
Chairman David Hudd said: "The first half of 2013 delivered another period of growth for the combined FIH business, with a quieter period in the Falkland's more than offset by an excellent performance from Momart and continued resilience from PHFC", said chairman David Hudd.
"We remain optimistic about the future for oil development in the Falklands and we are continuing to plan for our oil related investment projects which we will be ready to start when the Sea Lion project is approved by the Falkland Islands Government and demand grows.
"The group is in a strong financial position to exploit the opportunities which will arise and overall we expect a satisfactory result for the full year, with continued strong performance from Momart compensating for subdued trading in the Falkland Islands."