Premier Oil with operations in the Falklands launches bond to diversify its debt away from banks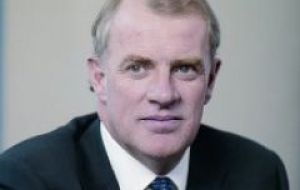 FTSE 250-listed energy explorer Premier Oil with strong interests in the Falkland Islands oil industry, launched this week a new bond, as it looks to diversify its debt away from banks.
The new 5% sterling-denominated notes mature in 2020 and are available to both wholesale and retail investors. The offer period is expected to close at noon on 6 December and the firm hopes to raise between £100m and £150m.
Barclays, Canaccord Genuity and Lloyds Bank will act as joint lead managers on the issue. "We're looking to diversify our sources of debt finance away from banks and more towards the bond market," chief financial officer Tony Durrant told City A.M.
"Bank debt tends to mature in around five years and we're looking for a longer maturity, of 15 or 20 years." Premier has already tapped into the US and Asian debt markets so is diversifying with this new sterling offering.
Durrant said this bond issue will be the last one in 2013, but added that another Asian bond could be a possibility next year due to investor interest in Singapore.
The company, which made a profit of £132 million in the six months to June 2013, confirmed that the bond will be 'guaranteed' by subsidiary companies of Premier. Premier has a market capitalization of £1.8 billion at the time of writing.
Premier has struggled with operational issues this year and slashed its full-year production guidance down from 63,000 barrels of oil per day (bopd) to 57,000-59,000 bopd back in October, although it said these issues would be resolved shortly.
The firm is planning a principal refinancing due by the first quarter of 2015.
'We are a mid-cap company, with our production levels growing at about 10%' he said. 'Some of the larger companies have not currently got the capacity to grow production by that much. We are raising this capital to allow us to increase our production levels further.'
Premier is following the lead of North Sea focused EnQuest, which raised £ 500 million from retail bonds earlier this year.
In October 2012 Premier completed a farm-out agreement with Falklands' Rockhopper Exploration for the development of the Sea Lion prospect where oil was discovered. The operation involved several hundred million dollars.