Argentina again contracts Russian vessels and choppers for the Antarctic 2013/2014 season
Thursday, November 28th 2013 - 22:36 UTC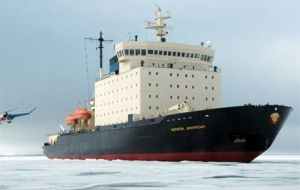 Argentina has again contracted Russian polar vessel "Vasily Golovnin" for the supply of its Antarctica bases and stations this coming summer season. The 24.4 million dollars package also includes ice-breaker 'Dranitsyn' and two heavy load helicopters Kamov KA32 which will making most the hardest work in the extreme south outposts
Argentina's contribution will two M17 Russian choppers purchased at a cost of 15 million dollars, which are currently undergoing land-sea loading tests with Argentine pilots in combination with Hercules support aircraft. Apparently they will be acting as support from the Marambio base.
Golovnin contracted for this season has already replaced Argentina's Antarctica flagship 'Almirante Irizar' (still undergoing repairs since the 2007 fire and apparently ready for 2016/17) on four occasion since 2008. However it was left aside in 2012/13 when there was an attempt to supply Argentine bases with the vessel "Timca" and other transports which proved a complete disaster and forced emergency air supplies to the outposts, mainly Marambio base.
Defense minister of the time Arturo Puricelli who contracted the 'Timca' and mounted the alternative supply system faces charges of illegalities for the failed attempt.
The new minister Agustín Rossi has gone back to the Russian option and on Thursday launched the new Antarctic campaign announcing the Russian vessel and the choppers that will be responsible for the supply of the Marambio, Esperanza, Carlini, Orcadas, San Martin and Belgrano II bases.
Golovnin belongs to Arkadia PTE that won the bidding for this season's Antarctica supply contract. The package also includes the Russian ice-breaker Dranitsyn on an 85-day sub-contract which will be used to approach the Belgrano II base the closest Argentine outpost to the South pole.
Golovnin becomes available in January and the icebreaker in February with the task of supplying Belgrano II and making the change of personnel that was stranded this year at the base.
The last Antarctic season was so inefficient and disorganized apparently because 'Timca' did not comply with regulations to sail in Antarctica (despite the 17.8 million dollars contract), and the Navy's 'Canal de Beagle' had to do much of the job although the most extreme south bases had to be supplied by air.
In effect it has now been revealed that 16 air drops had to be done at Marambio because it was forced to ration food and other vital supplies. A Hercules from the Uruguayan Air Force had to be contracted for four million dollars to help fly in emergency spares.
Last 9 August an Argentine Air Force Hercules finalized under very special circumstances the provision of Marambio, while in May the 'Timca' returned to Ushuaia with 1.500 of the 5.200 drums of fuel it was supposed to deliver.
Golovnin must deliver to the Argentine bases 6.500 (205 liters) drums of fuel and lubricants; 800 cubic meters of Antarctic gas oil; 1.200 tubes of hydrogen and helium; 250 cubic meters of food and 2.500 cubic meters of general cargo, which includes a 10-ton cargo launch, an Unimog and several snowmobiles.