Falklands' referendum receives praise and is shown as an example for other Overseas Territories
Thursday, November 28th 2013 - 10:04 UTC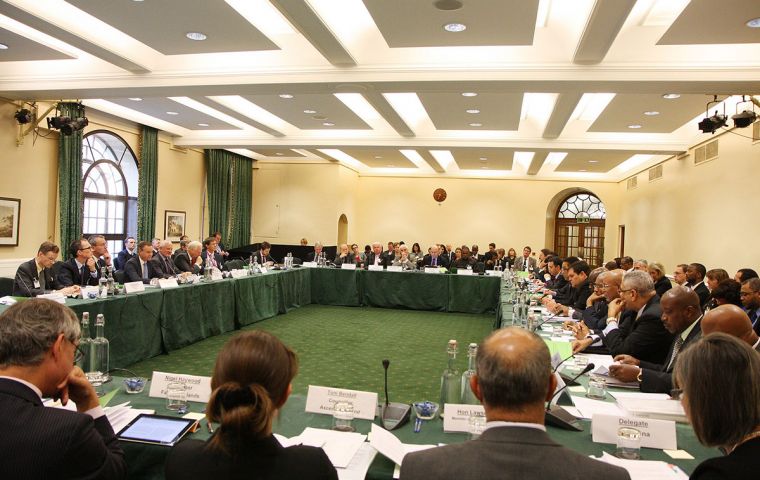 Praise for the Falkland Islands last March referendum and encouragement for other Overseas Territories to hold similar referendums on their future, was included in the final communiqué from the annual UK/British Overseas Territories joint Ministerial Council held this week in London.
"We welcome the result of the March 2013 referendum in the Falkland Islands, which overwhelmingly demonstrated the Falkland Islanders' wish to remain a UK Overseas Territory" reads the communiqué which then adds that "We call on all countries to accept the result of this referendum and support the Falkland Islanders as they continue to develop their home and their economy. The UK government stands ready to support any Territory that wishes to have a referendum on its future".
The Falklands were represented at the two day meeting by lawmakers Roger Edwards and Ian Hansen, Governor Nigel Haywood; Falklands' government representative in London Sukey Cameron and Jamie Fotheringham (Head of Policy).
Likewise the communiqué expressed full support for Gibraltar and called on the Spanish government to de-escalate tensions.
"We will continue to support the people of Gibraltar. We urge the Spanish Government to de-escalate tensions with Gibraltar, including at the border and within British Gibraltar Territorial Waters".
Further on it states that the right of self-determination is enshrined in the UN Charter and "we believe that the people of all Overseas Territories have a right to determine their own futures, to decide on the path they wish to take and to maintain freely their constitutional link with the UK if that is their choice".
"Being a British Territory entails a balance of benefits and responsibilities. We affirm a commitment to shared values, high standards of governance and building a stronger partnership. Any decision to break the constitutional link should be on the basis of the clear and constitutionally expressed wish of the people of the Territory. We believe that the UN Decolonization Committee should delist Territories where this is their wish".
Finally each OT is unique and has its own Constitution and "we will continue work to complete the process of constitutional modernizations so that Territories have the greatest self-government possible".
In other business the communiqué refers to the promotion of further opportunities for business, trade and investment in the Territories, plus a commitment from the UK and OT governments to work together on education and training; green energy and the environment; developing stronger links with the wider world; international financial services regulation; governance and security issues.
Speaking after the meeting, Foreign Office Minister for the Overseas Territories Mark Simmonds said he greatly valued discussions with the leaders from the Overseas Territory Governments.
"There was a real sense of progress towards our shared ambition for the Territories as vibrant and flourishing communities. We are working together to support economic growth and job creation and to demonstrate that the Territories are among the best places in the world to do business", concluded the UK minister.