Rousseff reluctant to increase fuel prices fearing inflation and social unrest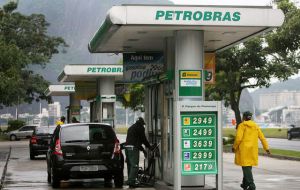 Brazilian president Dilma Rousseff is reluctant to allow the country's oil corporation Petrobras to increase the price of fuels this year, which would have an immediate impact on gasoline, transport and inflation, according to Folha de Sao Paulo.
However the Rousseff administration apparently is prepared to allow a 5% price increase for gasoline and 10% for diesel, but will most probably implement a new formula to calculate the value of fuel prices in 2014, reveals the influential daily.
Petrobras has been forced to import growing volumes of fuels and refined products which is affecting the country's largest corporation, its shares' value and the stock market. It is estimated losses are well over 10 billion dollars because of the mismatch between import fuel costs and domestic revenue.
Although Brazil is flush with oil it lacks refining capacity, mainly because of the delay of an ambitious project for a major refinery, jointly financed by Venezuela's Hugo Chavez but which never took off. To this must be added the fact that the number of cars sold in the domestic market has increased significantly in recent years.
According to Folha sources from the Rousseff administration admit that Petrobras needs to generate more revenue not only for its balance sheet but to address the billions of dollars needed to develop its sub-salt reserves in the next decade. But they are also concerned about inflation and the month long protests last June which shook the political system.
A meeting of Petrobras officials with Finance minister Guido Mantega is scheduled for Friday precisely to consider the price of fuels, a meeting which has been postponed on several occasions.
President Rousseff who is expected to bid for her re-election in October 2014, is concerned that inflation or further social unrest could threaten her chances.