Brazil corruption money: "between 32 and 53bn dollars in 2013" says FIESP
Friday, November 29th 2013 - 23:41 UTC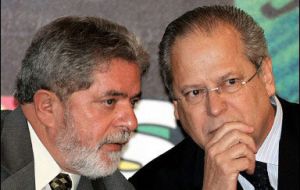 Corruption is not new in Brazil nor does it surprise public opinion but the magnitude of such extended practice is only coming to light with a recent study from the powerful manufacturing lobby, FIESP (Federation of Industries of Sao Paulo State) which states that the average annual cost of corruption in the country is between 1.38% and 2.3% of GDP, which the World Bank in 2012 estimated at 2.3 trillion dollars.
The most recent and notorious case involves the famous 'mensalao' or big monthly payments scheme in which public funds were used to buy political support for the then-Lula da Silva government and to pay off debts from election campaigns. Brazil's Public Ministry, the country's Federal Police and the Brazilian Court of Audit estimate that the cash for votes scheme involved an estimated 43 million dollars of taxpayers' money.
If the numbers of the FIESP study are to be believed, just in 2013 something between 32 billion and 53.1 billion dollars can be accounted as "corruption money," which, it is important to remember, gets out of circulation that hits growth. To put into perspective, if that money was invested in Brazil's precarious education system, the number of Brazilian students enrolled in elementary school could be improved from its current 34.5 million to 51 million.
Should that money be invested in the public health system, the number of beds available in Brazil's public hospitals could almost double, from 367.397 to 694.409. That same money could house more than 2.9 million Brazilian families, and if invested in sanitation it could reach an additional 23.3 million households that aren't on the public sewer system.
As for Brazil's infrastructure system, one of the country's Achilles heels, the money diverted from public funds could be used to build 277 new airports in the country, a much needed help considering that it is under scrutiny as it prepares to host the 2014 FIFA World Cup and the 2016 Summer Olympics, with both events requiring advances in airport capacity and efficiency.
According to Transparency International Brazil ranks 43 in the list of most corrupt countries in a scale from 0 to 100 and in which those with less points are the least corrupt ones.