Gibraltar chief minister mobbed by extremists in Spanish university
Saturday, November 30th 2013 - 07:14 UTC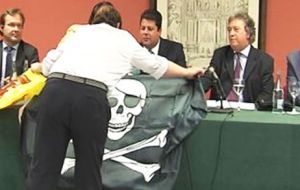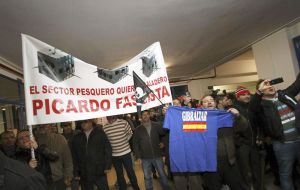 Hooded far right extremists disrupted an academic event in the Spanish port of Algeciras at which Gibraltar Chief Minister Fabian Picardo was due to have delivered a speech on cross-border cooperation Thursday night. They were joined by a group of fishermen from La Linea and Algeciras standing next to a banner that read "Picardo Fascista".
Picardo was smuggled into the building by his security team amid tense scenes as the extremists split up trying to block the three entrances to the Algeciras polytechnic where the event was due to take place.
The far right group was made up of young men and women who just minutes earlier had mingled with the crowds of students waiting to attend the chief minister's speech.
As the Gibraltar delegation arrived, they unfurled banners and Spanish flags and began hurling insults against the background of the rallying call "Gibraltar Español". The radicals numbered no more than 20, but they were joined by a group of fishermen who shouted angrily that Mr Picardo and Gibraltar had ruined their livelihoods.
The mood was nasty and aggressive, filled with vitriol targeted at the Chief Minister, the Gibraltarians and Gibraltar as a whole. The extremists were also angry at the University of Cadiz for organizing the event and inviting CM Picardo to speak, yelling "traitors" at the organizers.
After around 20 minutes of angry scenes crammed into a small hallway outside the room where the address was due to take place, the university authorities opted to cancel the event over security concerns.
The news was greeted with cheers, after which a young man dressed in a dark suit read a communiqué filled littered extreme nationalistic rhetoric. Picardo's security smuggled him out of the building and into his waiting car to be sped back to Gibraltar.
The shocking scenes at the university will raise questions about the security arrangements put in place by the Spanish authorities.
Prior to the event, the Spanish Government's representative in Andalucía, Javier de Torre, had given public assurances the event would be well policed to ensure public order was maintained.
However the Royal Gibraltar Police later confirmed that Spanish police officers had been on hand to help protect the Chief Minister as he was whisked from the student building.