Rajoy meets PM Cameron and states the diplomatic bag incident in Gibraltar border 'resolved'
Saturday, November 30th 2013 - 19:42 UTC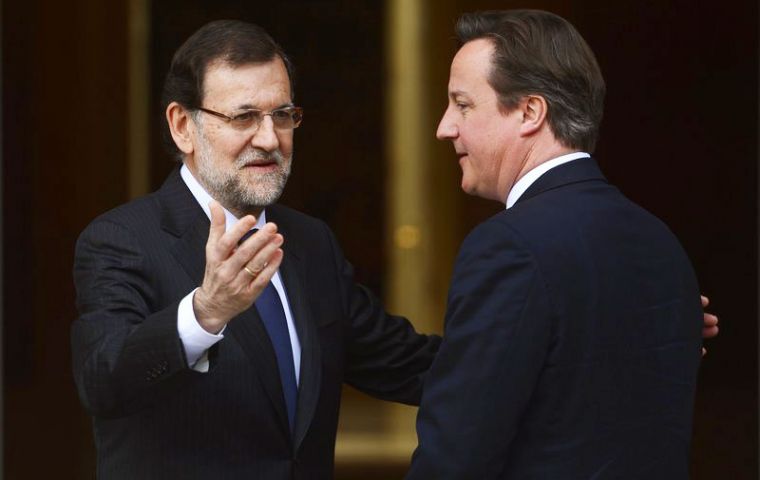 Spanish Prime Minister Mariano Rajoy drew a line under the diplomatic bag incident at the Gibraltar border following a conversation with his British counterpart, David Cameron. The two men spoke on the side lines of an EU summit in Vilnius, Lithuania, although their conversation centered mostly on Scotland and Catalonia, according to Spanish reports. "This (incident) has been resolved" said the Spanish president.
The development came as Times columnist Ben Macintyre claimed in an article that Spain's ambassador to London, Federico Trillo, had been summoned by the Foreign Office over the bag incident.
If correct, that would mean that Ambassador Trillo was called in by the British Government twice within the space of a week, the first time over a 22-hour incursion into British waters by the Spanish research ship Ramón Margalef.
The Foreign Office would not comment further on the matter or on the claim in the Times newspaper. Earlier this week it said two UK government bags had been opened at Gibraltar border in error by a junior Spanish officials and that the British Government had received assurances it would not happen again.
"We made appropriate representations to the Spanish authorities at senior levels, and we have now received an explanation from the Spanish Government and been assured that we will not see a repeat of those actions," it said.
In related issue Gibraltar ans South West England MEP has asked the European Commission to clarify whether Spanish proposals to stop vessels carrying building materials from entering Gibraltar would be permissible under EU law.
Conservative Ashley Fox informed the Commission that "a recent announcement in the Spanish press warned that the Spanish Government may seek to interrupt vessels carrying building materials to Gibraltar."
He subsequently tabled a written question before the European Parliament asking whether such a move would contravene the free movement of goods, as enshrined in the European Treaties.