World Cup stadium tragedy: union says soil was 'too soft' for the heavy crane
Saturday, November 30th 2013 - 06:37 UTC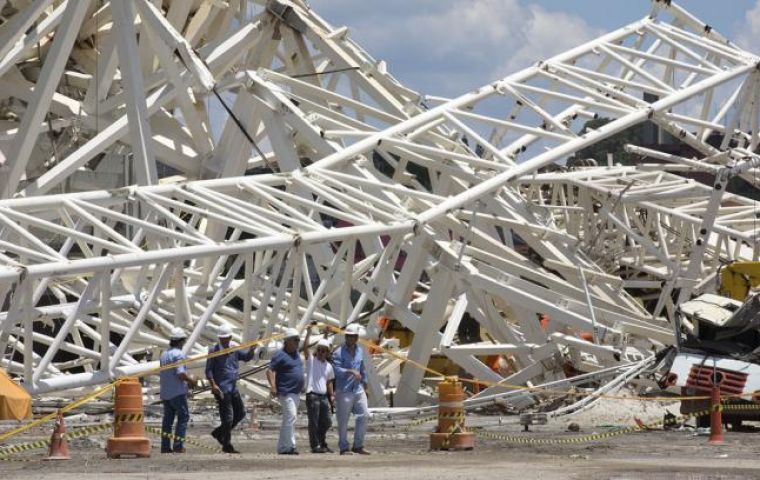 A safety engineer at the World Cup stadium where a giant crane collapse killed two workers allegedly warned his supervisor of possible problems with the operation, only to have his concerns brushed aside, a labor union leader charged on Thursday, as sniping over the accident heated up.
The incident has fed worries about Brazil's capacity to host next year's showcase tournament, as well as the 2016 Olympics, though authorities insist they will be ready for both.
Sao Paulo's Arena Corinthians was slated to be completed by the end of December, and workers have suggested that speed was a top priority on the construction site, with many working 12-hour shifts and skipping vacations.
The stadium was initially scheduled to be part of the Confederations Cup earlier this year, but world football's governing body FIFA scrapped the venue from the warm-up tournament because of financing problems before construction even started.
Antonio de Sousa Ramalho, president of Sao Paulo's civil industry workers' association, told The Associated Press in a phone interview that supervisors pressed ahead with the operation to finish the roof despite several rainy days that soaked the soil. He said the engineer warned his supervisor that the ground was not stable enough to support the 454-tons piece of roofing.
"To his surprise, he was told by the supervisor that nothing was wrong and work should continue," said Ramalho, who declined to provide the worker's name for fear of possible reprisals. "They discussed the matter for a while but in the end the supervisor's decision stood."
Odebrecht, the powerful Brazilian construction company behind the stadium project and three other World Cup venues, strongly denied the claims, and a civil defense official said an initial inspection of the construction site a day after the accident showed no evidence the ground was unstable.
"Odebrecht and Sport Club Corinthians clarify that there was no warning previous to the accident," the statement said. The company added that Ramalho's union does not represent most of the workers involved in the crane operation.
A video released on Thursday by Globo television network shows how quickly the accident took place. The video, which Globo said was shot by architect Marcio Antonio Campos during a visit to the site Wednesday, shows the giant crane falter and tumble heavily to the ground. After the crash, dozens of hard-hated workers are seen streaming toward the accident site.
According to Brazilian media reports, investigators are also looking into human or mechanical error as possible reasons for the collapse.
The area where the accident happened will remain closed, but work can resume at most of the stadium as soon as Monday, when a three-day mourning period ends. Constructors will be allowed to clear the crane and the metal structure after getting clearance from civil defense authorities.