Mexico confirms interest in joining YPF to develop of Vaca Muerta shale
Monday, December 2nd 2013 - 18:51 UTC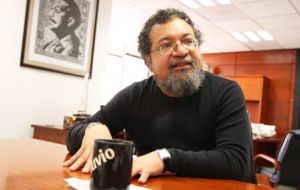 Mexico's government owned oil company Pemex is getting closer to an understanding with YPF after playing a crucial role in brokering a deal between Argentina and Spain regarding the April 2012 seizure from Repsol of a majority stake in YPF. Pemex apparently is interested in having a share at the Vaca Muerta oil and gas shale deposits in Patagonian Neuquén.
In an interview with the Cristina Fernandez administration financed daily Tiempo Argentino, Pemex board member Fluvio Ruiz Alarcón is quoted saying that a technical team from the Mexican company is currently analyzing the potential of Vaca Muerta in order to figure out where investment opportunities may lie.
"We are on track for a formal agreement" with YPF, admitted Fluvio Ruiz Alarcón in the interview.
The Mexican official also talked about the compensation pre-agreement reached between Repsol and YPF brokered by the Mexicans. Pemex is a minority shareholder in Repsol and has been very critical of its management.
Ruiz Alarcón said he was glad that the "worst part, which was the preliminary agreement" between YPF and Repsol for compensation was over.
"Repsol's initial reaction was not appropriate to the logical behavior of this century," Ruiz Alarcón, also a member of Pemex's Management Council, added.
In related news seized YPF reported the highest rate of oil production since May 2011, reaching 38,793 cubic meters per day. The previous peak in production came a year before the government expropriated a majority stake in the company from Repsol, which apparently accepted a deal offering a reported 5 billion dollars in compensation only last week.
Crude output in the province of Santa Cruz stood out at 10,970 m3 per day, a rate unmatched since February 20, 2010, while Chubut continued to equal the best results seen in the last 24 years with 5,536 m3 per day.
Meanwhile production at the Vaca Muerta shale oil and gas formation, estimated to be one of the largest unconventional deposits in the world, weighed in at 2,146 m3 per day.
In the third quarter of the year alone, YPF has drilled more than 20 wells at Vaca Muerta, with 19 more currently under development, illustrating how the state-controlled company is boosting activity in the promising area.