Uruguay fishing industry in deep trouble: high costs, poor catches, labor conflicts
Monday, December 2nd 2013 - 15:26 UTC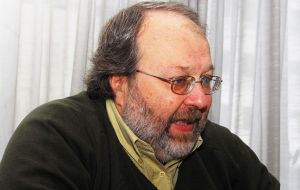 High costs, poor catches and labor conflicts are threatening the competitiveness of Uruguay's fishing sector which has seen exports drop considerably plus fears of a possible closure of Nigeria which in the last 18 months has become the main market.
Uruguay traditionally exports 90% of its caches and last year, a poor year, overseas sales totaled 189 million dollars, which was 20% below 2011 and 2013 does not look any better according to the latest release from Dinara, the country's national Directory of Aquatic Resources.
Companies argue that the dollar exchange rate makes Uruguay's production dearer since costs and labor are more expensive and thus impacts on competitiveness. This helps to explain why hake exports dropped 35% in volume compared to 2011 and white croaker, which became the main export item (to Nigeria) also saw the volume fall 9%.
"The European Union recession and different stimuli measures implemented by developed countries to overcome the crisis have had a unfavorable impact for the industry" said sources from Fripur, Uruguay's largest fishing company. In 2011 Fripur exported 75 million dollars, 32% of all the country's overseas sales.
Sales to Europe dropped 32% in dollars and 44% in volume; to Brazil, 27% and 15% respectively while Africa became the main market, but Nigeria is threatening to stop imports arguing that it wants to promote aquiculture, according to Ricardo Piñeiro, president of the fishing vessels owners' chamber
Dinara chief Daniel Gilardoni admitted he is aware of the situation but no major decision has been taken regarding the import of fish, of which Nigeria purchases 1.2bn dollars annually.
Fripur on average processes 25.000 tons of which 13.000/15.000 tons is finished and packed produce. Only 10% of Fripur's production is sold domestically.. Nevertheless Uruguay imports tuna, sardines, salmon and shrimp. In 2012 those imports totaled 7.240 tons mostly from Ecuador, Argentina, Chile and mainly Taiwan.
Another import item, 19.270 tons last year, is introduced as 'temporary admission' to be processed and re-exported from Uruguay, mainly hake and shark. However this item has also dropped in recent years, 10% in volume and 5% in prices.
Likewise Uruguay also faces lower landings: in 2012 they totaled 70.145 tons (46.774 hake and white croaker), which is 17.847 tons less than in 2011. Some blame low catches to the fact that the River Plate basin, which concentrates 80% of all Uruguayan fisheries activity, is shared with Argentina in a treaty that establishes quotas by resource and not by country.
"For example, the white croaker quota is shared with Argentina but this year they took it all because we had a conflict with the labor unions, it started in June and lasted 127 days with no activity at all", claimed Pablo Berro from Evamal.
Furthermore some companies are leaving Uruguay not only because of the competitiveness lost edge, but also because a recent bill forces Uruguayan flagged vessels to have 90% local crew, compared to 50%/50% a few years ago. This has meant that the sector which had 124 industrial licenses back in 2004 is now down to 67, which means a considerable drop in the number of fishing vessels.
"It's not clear what is going to happen; I think we should have some kind of support to continue operating; once you stop fishing it's very hard to start again, and that is happening with many vessels", said Piñeiro.