Foreign Office warn football fans to be on the ball when planning trips to Brazil
Thursday, December 5th 2013 - 20:03 UTC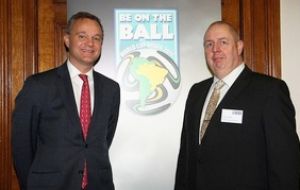 Ahead of the World Cup draw on Friday the Foreign & Commonwealth Office (FCO) and the Football Supporters Federation (FSF) are teaming up to urge England fans to do their homework before booking travel to Brazil.
Brazil is a big country – roughly seven times larger than South Africa. Tourist numbers have been steadily increasing. Over 150,000 British Nationals visited Brazil in 2012 and the vast majority of visits were trouble free.
Friday's draw could see England fans having to travel distances up to 3,000km to get between group games. Travelling these distances can take up to four hours by air.
Mark Simmonds, the Minister for Consular Affairs, said:
Like me, England fans are looking forward to Friday's draw but it is crucial that they do their research before they arrange flights to Brazil and, importantly, their onward travel within the country. There are some distinct challenges, notably the vast distances between venues, so we urge fans to prepare for these – remember to check the travel advice and FCO website before you book your flights.
Many travelling fans will have attended international tournaments before but this tournament poses new challenges. We encourage all fans to plan thoroughly to ensure a safe and successful trip in Brazil. You wouldn't expect Roy Hodgson and the team to be unprepared for the World Cup, so you shouldn't be either.
Kevin Miles, Chief Executive of the Football Supporters Federation, said:
It's really important that fans think carefully before they travel and know what to expect in Brazil. Every tournament is different and the travel distances to get between games will make an Exeter to Hartlepool away day look like a doddle.
In addition to long travel distances between games the FCO is highlighting the following travel advice for those thinking of heading to Brazil:
your passport should be valid for a minimum period of 6 months from the date of entry into Brazil
be aware that there are additional requirements for all children under 18 entering or transiting Brazil without their parents or legal guardian, or travelling with one parent only
ensure that you obtain travel insurance and that it covers you for all activities that you may want to carry out while in Brazil
there were significant protests during last year's Confederations Cup; fans travelling to the World Cup should avoid all protests and demonstrations and should monitor local media and follow the guidance of local authorities
be aware that Brazil has a high road accident rate and crime levels are also high, especially in major cities.