Despite strong signs of recovery, Bank of England leaves interest rates unchanged
Friday, December 6th 2013 - 23:31 UTC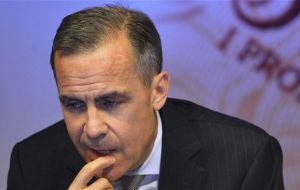 The Bank of England held interest rates at a record low once more this week in spite of mounting optimism over the UK recovery. A flurry of encouraging signs on the UK economy has fuelled expectations for growth to pick up to around 1% this quarter.
But Bank of England governor Mark Carney has already sought to allay fears that the better prospects could mean interest rates rising from their current level of 0.5% sooner than expected.
The low-interest rate policy is part of the Bank's monetary stimulus in helping to nurse the UK back to health after the downturn, and also includes a quantitative easing program (QE) injecting £375 billion into the economy.
The QE drive has now been kept on hold since it was last raised in July last year as the recovery has gained traction.
Policymakers have pledged not to raise rates from the current historic low of 0.5% until the jobless rate falls to 7%, although with the jobs market improving there had been concerns that they could go up sooner than previously believed.
Mr Carney admits that the Bank's Monetary Policy Committee (MPC) expects the 7% threshold to be reached earlier than it did in August.
But he stressed recently to markets that the ''forward guidance'' linking interest rates to joblessness did not mean that reaching the threshold would automatically trigger a rate rise.
Mr Carney said: ''We will continue to provide exceptional monetary stimulus so that British households and businesses have, for the first time in a long time, the confidence not just that the glass is half full, but that it will be filled.''
Further positive reports on the economy have continued to emerge in recent days, with optimistic surveys from the manufacturing, construction and services sectors adding to hopes that output will rise to 1% in the fourth quarter from 0.8% in the previous three months.
Falling inflation has also eased the pressure on the Bank to lift the cost of borrowing, with the Consumer Prices Index (CPI) dropping to 2.2% in October - its lowest level in more than a year.
However some economists believe the Bank will face a tough dilemma next year amid predictions that inflation will pick up once again.