Falklands working on a policy to protect the Islands from norovirus
Friday, December 6th 2013 - 23:20 UTC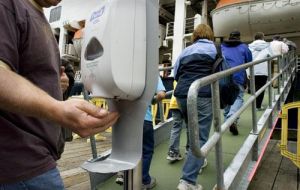 The Falkland Islands is aiming to develop a policy to protect the territory from the spread of norovirus, an infection which is not uncommon in big urban centres but which several cruise vessels have also experienced.
At a meeting of the Falklands Health and Medical Services Committee held this week a paper by the Chief Medical Officer Dr Angela Rowlands was considered.
The paper basically recommends that a policy is put in place to protect the Islands from possible infection from visiting cruise ships.
Tourism is one of the main industries of the Falklands with dozens of cruise vessels and thousands of visitors calling in summer months, some of which carry more passengers than the whole population of the capital Stanley and even of the Islands.
In effect the total Islands population is approximately 3.000 and Stanley's 2.200 according to the 2012 census
Precisely in 2011 a cruise vessel was turned away because a number of passengers aboard had contracted the norovirus.
Norovirus is a gastrointestinal infection which spreads very rapidly. It can have serious effects on the very young, the elderly and those with serious chronic conditions.
At the Health and Medical services committee it was decided that Dr. Rowlands speaks to the Tourist Board to further discuss the issue working on from the paper with recommendations.