Latam forecasted to expand 3.2% in 2014 after a 2.6% this year, says Eclac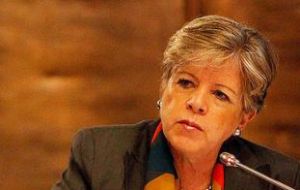 The economies of Latin America and the Caribbean will expand by 3.2% in 2014, which is higher than the 2.6% for 2013, according to the latest report from the UN Economic Commission for Latin America and the Caribbean, launched on Wednesday in Santiago, Chile.
In its annual report 'Preliminary Overview of the Economies of Latin American and the Caribbean 2013', Eclac points out that less buoyant external demand, greater international financial volatility and falling consumption were the factors determining the more modest economic performance of countries in 2013, which brought down the 3.0% estimate put forward by the Commission in July.
A moderately more favorable external environment should help boost external demand in 2014 and in turn the region's exports. Private consumption will also continue to grow, although more slowly than in previous periods. In the meantime, increasing investment in the region remains a challenge.
"The world economic situation in 2014 provides opportunities and threats for Latin America and the Caribbean", said Eclac Executive Secretary Alicia Barcena.
"Opportunities include increased international trade and the possibility of harnessing currency depreciations to ensure sustained changes in relative prices. This - along with industrial policies to support growth, boost regional integration and help small and medium-sized enterprises and could help to increase investment in diversifying production in tradable goods".
The threats facing the region include ongoing volatility in the global economy and higher external financing costs, as well as a smaller consumption contribution to GDP growth and a worsening regional current accounts.
According to the report regional growth in 2014 will be led by Panama (with 7%), followed by Bolivia (5.5%), Peru (5.5%), Nicaragua (5%), Dominican Republic (5%), and Colombia, Haiti, Ecuador and Paraguay (all four with 4.5%). Growth is predicted to be 2.6% in Argentina and Brazil, 4% in Chile and Costa Rica, 3.5% in Guatemala, Mexico and Uruguay, and 1% in Venezuela.
According to Eclac in 2013 domestic demand made a smaller contribution to regional growth owing to a slowdown in wages and consumer credit. The slightly higher contribution by investment and the smaller negative impact of net exports failed to offset reduced domestic demand.
This year, regional growth was led by Paraguay (13%), followed by Panama (7.5%), Bolivia (6.4%), Peru (5.2%), Nicaragua (4.6%), Uruguay (4.5%), Argentina (4.5%) and Chile (4.2%).
The unemployment rate remained more or less stable, going from 6.4% in 2012 to 6.3% in 2013 and inflation remained below 5% in most of the region's countries.
A widespread worsening of the terms of trade - on the back of continued drop in commodity prices - contributed to the balance-of-payments current account deficit widening from 1.8% of GDP in 2012 to 2.5% in 2013 (mainly as the result of a higher increase in merchandise imports relative to exports).
Given this context of lower inflation, slower economic growth and financial instability, many countries implemented moderately countercyclical policies aimed at shoring up internal demand and tackling international financial volatility. Some countries reduced their benchmark interest rates (except Brazil), while others encouraged the stable growth of monetary aggregates (or total money circulating in an economy).
Financial instability led to a smaller accumulation of international reserves, and some countries introduced macro-prudential measures to avoid greater exchange-rate fluctuations.