Brazil to lower economy stimulus beginning with subsidized credit lines
Friday, December 13th 2013 - 13:04 UTC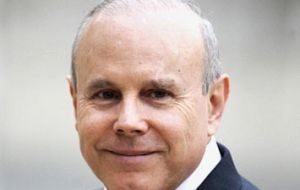 Brazil will raise interest rates on some state-subsidized credit lines in 2014 withdrawing part of the stimulus that helped boost investments but also hurt public finances this year. Interest rates on loans for the purchase of capital goods and trucks will climb to 6% per year, from 4%, while a special credit line for exports will climb to 8% from 5.5%.
The announcement was done by Finance minister Guido Mantega who also said the Brazilian economy was on the path to recovery.
The subsidized credit lines are part of a special program by state development bank BNDES to lower the cost of capital goods for industries and farms.
The program spurred investment and boosted a tentative economic rebound in the first half of this year, but also alarmed ratings agencies by lifting Brazil's gross debt.
Brazil's benchmark lending rate is currently at 10% after six consecutive increases this year.
Mantega had already announced that the credit line program would be extended into 2014 with some adjustments, but carmakers and machinery builders had been asking for further details to carry on with their investment plans for next year.
Brazil is facing presidential elections next October and president Dilma Rousseff is expected to bid for re-election boosted by favorable opinion polls, despite the June/July rioting and protests against political corruption and the poor quality of public services.
As he announced the changes, Mantega said Brazil's economy is on a path of gradual recovery that should continue in 2014 and the government is committed to strong fiscal results this year and next.
Mantega has previously forecast average growth of 4% per year over the next decade, a rate Brazil has not managed once under President Dilma Rousseff. In the third quarter, the Brazilian economy contracted for the first time since 2009.