Keeping up with inflation in Argentina: after calming police, who's next in the queue
Friday, December 13th 2013 - 08:47 UTC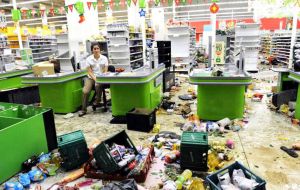 Police protests and widespread looting in 19 of the 24 Argentine provinces has, in a few weeks, shattered expectations about the new cabinet of President Cristina Fernandez and a stabilization of the economy, since as can be anticipated government employees and unions will be demanding similar conditions as their blue uniformed colleagues to keep up to date with inflation, running at an annualized 26% according to the November reading.
Certainly no chances of a planned round of imminent salary negotiations with an 18% cap, when most police forces extracted increases which oscillate in the range of 35% to 50%. And furthermore no guarantees that those hefty increases can be met by the almost financially depleted provinces without support from the federal government.
In Buenos Aires the strong leader of organized labor, teamsters' Hugo Moyano has anticipated a strike as of next Monday if his union members are not paid an extra end of the year bonus to counter inflation.
Likewise the serious defeat of government in the October mid-term elections and the latest protests triggered by inflation and insecurity, (an obsession of the electorate as shown by opinion polls), many Kirchnerite provincial governors and urban chiefs of metropolitan Buenos Aires are having second thoughts about loyalty, ahead of the 2015 presidential and legislative elections.
In effect the protests exposed the weakness of some of the potential governors to succeed Cristina Fernandez in 2015. Cabinet chief Jorge Capitanich had to see as law and order crumbled in his Chaco province with five people killed and extended looting.
In Tucumán Governor Alperovich, who is the husband of Senator Beatriz Rojkés, second in line of succession to Cristina Fernandez, suffered several humiliations: from his insubordinate police force; from a furious population which had to arm and organize defense groups to fight rampant looting in businesses and even private homes, in what seems apparently police inspired 'liberated areas', and from gendarmes sent to impose order and prevent citizens from attacking a corrupt police force.
In Salta, promising young governor Juan Urtubey has yet to reach an agreement with his rebellious police and a similar situation is faced by governor Sergio Urribarri.
The management of the protests challenge also unveiled serious infighting in Cristina Fernandez bunker. When the police strike first took off in Cordoba, apparently the confrontation-hard line strategy prevailed and instead of stamping out the fire immediately, they expected to enjoy seeing governor De la Sota (no friend of the Kirchners) steamed in his own cave.
But De la Sota caved in, gave the Cordoba police what they demanded, 50% increase, and this spread like a bush fire to other provinces, plus a balance of at least 13 people killed, the discredited political system on retreat and forecasts of a very hot summer, with little time for holidays in cool Patagonia.
Round numbers published in the Buenos Aires media indicate that the Argentine provinces spend on law enforcement personnel 50bn Argentine pesos annually, equivalent to 10% of budgets. Increases of 30% to 50% mean an additional outlay of 20bn Pesos, meaning the provincial administrations deficit has doubled in a snap.
The province of Buenos Aires where 12 of the 40 million Argentines live is a clear example: he needs an additional 2bn Pesos to address increase promises, and must also face in January a previously agreed overall increase for his bureaucracy. To address the new situation governor Daniel Scioli another 2015 presidential hopeful, must re-draft the provincial budget for which he will need the votes from dissident Sergio Massa, whom Cristina Fernandez' bunker accused of being the de-stabilization force behind the protests and looting.
But a more common-sense approach to events can be explained in a report by economist Nicolas Dujovne which shows that government employees have been losing the inflation battle faster than the private sector.
In the last three years to October, government salaries have risen 60% while in the private sector 111%. Leaving aside inflation, the private sector has benefitted with a 36% real increase and the public sector, 15%. But if these estimates are stretched to the last ten years, they show private sector real salaries up 51% and the public sector (including law enforcement officers) real salary is down 7%.
This however has not meant lesser government expenditure on staff. Rather the contrary, political cronyism has swollen bureaucracy in numbers to the loss of better paid staff, and obviously better qualified for the job. At the same time the Kirchners' Executive abusing of exceptional laws has concentrated resources and revenue, making the provinces even more dependent of federal co-participation whims.