Argentina: compensation to security forces that helped contain police protests and looting
Saturday, December 14th 2013 - 06:04 UTC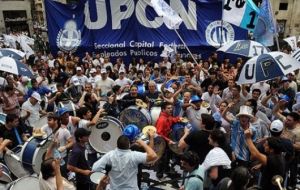 Cabinet Chief Jorge Capitanich confirmed on Friday that President Cristina Fernández will announce next week an "economic and financial recognition" to the members of national security forces following the deployment of 12,000 agents across the country to counter the impacts of the police protests and lootings that hit almost all Argentine provinces over the past days.
In his everyday brief to the press at Government House, the head of ministers explained "the Gendarmerie, the Federal Police, the Coast Guard and the Airport Security Police complied with the request of provincial governments to protect citizens" who were left "defenseless" by local police officers who launched a protest over salary that prompted a wave of lootings and violence in 19 out of 24 provinces with a balance of at least 13 people killed.
"It is an economic and financial recognition that will be implemented by decree next week," Capitanich stated.
Meantime in the rest of the country after the wage hike granted to local police forces by several governors under pressure, provincial leaders are now facing a new demand: this time from state workers.
Wage hikes granted over the last ten days increased the minimum wage for new police officers to between 6,500 and 13,000 Pesos (600 to 1.200 US dollars), depending on the district, and it was not long before the measure caused a spillover effect on ongoing salary negotiations amid growing concern about where the provincial leaders will be getting the cash to pay for such widespread increases.
In Buenos Aires province, where some sectors of the provincial police were granted overall wage hikes of around 60%, IOMA healthcare workers launched a strike demanding that Governor Daniel Scioli grant a similar increase.
In Mendoza workers started protests and in Neuquén the district is in the middle of a four-day strike of health workers and protests from teachers' unions demanding a 35% salary hike or a basic salary of 10,000 pesos, the sum granted to police officers by Governor Sapag.
Similar mobilizations are taking place in Rosario, the country's second largest city and in Córdoba and in the province of San Juan.
In Buenos Aires teamsters headed by union secretaries Pablo Moyano and Marcelo Aparicio claim a bonus of 4,500 Pesos and warned they will take a "nationwide action" if their demands are not met.
"This bonus is no gift but a basic need to minimally cover the continuing increase of the basic food basket," Moyano told reporters who was participating in negotiations at the Labor ministry.