Bachelet sweeps in but as in the first round abstention prevailed
Monday, December 16th 2013 - 11:02 UTC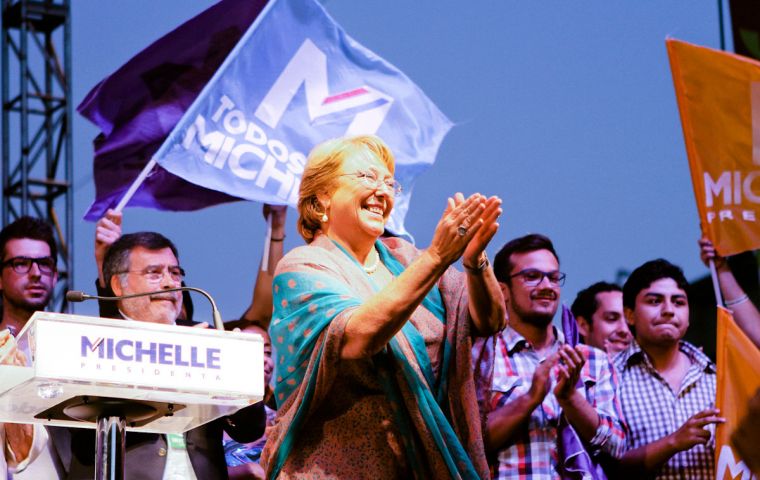 Michelle Bachelet is set to resume her former position as president of Chile in March 2014 after a resounding second round victory against her opponent and former childhood playmate, Evelyn Matthei. In an acceptance speech late Sunday night the president-elect touched on two key platforms of her campaign: free higher education and a new constitution.
"I want to thank the young people who have protested for free, public and quality education," Bachelet said. "[Chile needs] a new constitution, born in democracy, which guarantees that in future the majority will never again be silenced by a minority."
With 99.85% of polling stations and almost 5.7 million votes counted late Sunday night, Bachelet was the clear winner of the two candidates, though abstention far outstripped them both.
The president elect received 62.2% of preferences, or 3.5 million votes against Matthei's 37.8% preference, 2.1 million votes. The null vote was 1.5%, 0.6% were blank.
The Electoral Service (Servel) numbers Chile's total electorate at 13.6 million. However, many believe the roll is inflated by the inclusion of double entries, deceased voters and Chileans abroad for whom there is no mechanism to vote. President Sebastián Piñera puts the number at 12 million.
In the election first round on 17 November, 6.7 million voted, with Bachelet securing 46.7% of preferences while Matthei won 25%.
Piñera, whose administration oversaw the transition to a voluntary voting system, lamented the low turnout, though personally rang Bachelet to congratulate her on a "great triumph."
"Firstly, I would like to congratulate and express my admiration for [Bachelet] because I know that a nine-month campaign is hard and difficult, but it has been a great triumph, and today Chileans have expressed themselves with clarity, in valid and transparent elections which fill us with pride," Piñera said.
Bachelet defeated Piñera in her first bid for the presidency in 2005 but was barred from consecutive terms by the constitution.
Piñera also congratulated his counterpart from the right-leaning Alianza coalition, saying that Matthei took on "the enormous responsibility" of flying the conservative banner with "courage and commitment."
For her part, an emotional Matthei accepted full responsibility for the defeat, though said she had no regrets about running as candidate after her predecessor Pablo Longueira pulled out citing depression in July.
"My deepest desire, to be honest, is that [Bachelet] does very well — no one who loves Chile could wish otherwise," she said. "I'm tired, it has been a long and intense campaign, but I'm serene and at peace. Everything that has happened over these unique intense and historic months has been marvelous."
Bachelet is scheduled to meet Piñera on Monday morning after the latter expressed his desire for a "rapid and efficient" changing of the guard. Bachelet will be sworn into office on March 11.
By Joseph Hinchliffe – The Santiago Times