Uruguayan former Defense minister honored by Argentina for his Malvinas claims support
Monday, December 16th 2013 - 16:37 UTC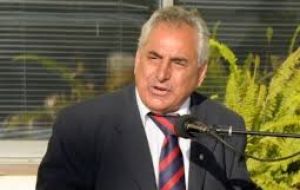 Uruguayan Senator from the ruling coalition Luis Rosadilla will be honored by the Argentine embassy in Montevideo for having volunteered in 1982 to join the Argentine war effort during the invasion of the Falkland Islands.
The medal "The Great Order of May", in the rank of "Grand Officer" is to be imposed on Senator Rosadilla, who also happens to be a former Defense minister will take place next Thursday at a ceremony headed by Ambassador Dante Dovena.
Rosadilla fresh from jail in 1982, after spending several years for crimes related to the urban guerrilla movement Tupamaros, volunteered to go and fight in Malvinas and is one of the founders of the Malvinas Forum sponsored by the Argentine embassy in Montevideo in support of Argentina's sovereignty claims over the Falkland Islands.
"It's a great moment and a great opportunity to thank all those Uruguayans who feel the Malvinas cause is not only Argentine but a Latin American cause" ambassador Dovena was quoted by Telam, the Argentine government official news agency.
This is not the first Uruguayan politician to be honored by the Argentine embassy for their support of Argentina's Malvinas cause.
Last September the mayor of the county of Colonia, just across from Buenos Aires City was also honored by Ambassador Dovena.
Mayor Walter Zimmer, a doctor by training also volunteered to join the Argentine forces in 1982 during the military occupation of the Falkland Islands.