Uruguayan economy on track to 4.1% growth this year and in 2014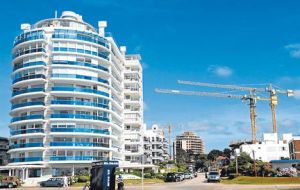 The Uruguayan economy contracted 0.7% in the third quarter compared to the previous quarter, although it jumped 3.3% over the same period a year ago, according to the latest release from the Central bank in Montevideo. During the second quarter, the expansion had reached 2.4%, and 1.5% previous to that.
This means the Uruguayan economy can be expected to expand 4.1% this year, even if the last quarter is flat. The Central bank forecast is for 4% growth this year and in 2014, which is in line with the IMF and World Bank estimates.
However economist Gabriela Mordecki from the Economy Institute said that the 0.7% contraction is a bit misguiding since it has been very much influenced by "the performance of power, gas and water, which do not reflect economic activity but rather changes in thermal to hydraulic power generation because of the abundance of rainfall".
Besides the second quarter was particularly dynamic mainly because of the calendar. In effect the week-long holiday of Easter this year was in the first quarter, which means several extra working days in the second quarter.
Nevertheless Pablo Rosselli, partner of Deloitte argues that the Uruguayan economy is moving at two speeds: on the one hand a poor expansion of exports (both goods and services), up 0.5% in the first nine months of the year, while domestic demand keeps steaming ahead while private investment at a slower rate.
According to the central bank report out of seven sectors which make up the GDP, five effectively contracted and only Transport, Storage and Communications and Other activities (financial, real estate, etc) expanded.
Construction was down considerably because work in the second pulp mill, Montes del Plata (2bn dollars investment) is virtually over, and similarly with a plant to de-sulfur fuel refined from Venezuelan heavy oil.
So was manufacturing which is suffering the consequences of too high costs and cheap imports. But if the performance of these sectors is compared with the third quarter a year ago, all sectors have advanced.
Exports' volume was up 2.8% compared to a year ago, while imports also increased by 4.7%.