West Antarctic ice sheet loss, one of the multi-year projects to be started this year by BAS
Tuesday, December 17th 2013 - 17:51 UTC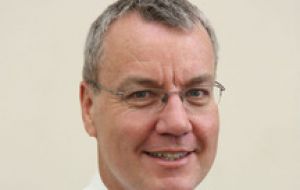 With the Antarctic Summer well underway, British Antarctic Territory Commissioner Peter Hayes has sent his well wishes to British Antarctic Survey staff (BAS) working on the continent over the coming months. In a recent letter to UK Base commanders Dr Hayes commented:
"As the Commissioner I take a keen interest in ensuring the good and active governance of the British Antarctic Territory. As the year-round representatives of the British presence in the region, I appreciate how important your work is to maintaining and strengthening that governance. I can assure you that the Government's commitment to this region and the dual mission that the British Antarctic Survey delivers in terms of science and Presence remains rock solid. The excellence of the British Antarctic science community is something of which we can be rightly proud"
Peter will himself travel down to visit Rothera in early January to visit BAS staff and see some of the work currently being undertaken.
Currently based in Cambridge, for over 60 years BAS have been responsible for undertaking the majority of Britain's scientific research on and around the Antarctic continent, and are one of the world leaders for scientific excellence in addition to being considered the 4th best research education institution in the UK. This summer marks the start of numerous endeavors for BAS in Antarctica, most notably iSTAR. iSTAR is a new scientific program funded by the Natural Environmental Research Council (NERC), and brings together leading scientists from 11 UK universities and BAS. A project which is to be stretched over many years and between numerous nations, its aim is to improve our understanding of the West Antarctic ice sheet; an area of Antarctic that has seen the greatest rates of ice loss over recent decades. It is hoped that the information gathered from this study will create knowledge and understanding to make major contributions to the ongoing international scientific effort in understanding our changing world.
This will also be the first full season for BAS staff since the launch of the new Halley VI base on 5th February 2013. The revolutionary design of Halley VI is a world first for any nation within Antarctica. Supported by legs mounted on large skis, the structure is not only able to be raised and lowered to avoid the accumulation of snow, but its modular base also makes it the only research station which can be fully relocated. BAT have commemorated the opening of Halley VI on their 2013 stamps and coins, both of which are now available to buy from our UK based stockists as well as within the Territory itself.