Falklands government contracts local company for provision of IT services
Thursday, December 26th 2013 - 08:31 UTC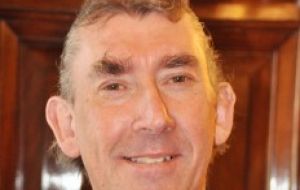 The Falkland Islands Government and local company Synergy Information Systems Ltd have agreed a contract for the provision of IT services to Government. The contract, signed last week following formal approval by Executive Council, involves the management of the Government's IT network infrastructure and user support and results in the transfer of more than 80% of Government IT work to the local private sector.
MLA Ian Hansen, the portfolio holder for Central Services said, "This is a milestone for FIG, IT is a major service that is being outsourced to the private sector. The Falkland Islands Government is very pleased to be able to award this contract to a local company and we look forward to seeing improvements in the service provided across FIG".
The Managing Director, Nikki Buxton, said "We are thrilled to be taking this step in the evolution of the company and look forward to the challenges ahead. Our on-going business model is to continue to provide IT support to all our customers as well as FIG, and preparations are underway to expand our workforce to support this contract".
Synergy Information Systems Ltd currently provides IT support for approximately 80% of Stanley based private sector businesses, and has carried out a number of Government contracts since 1996.
The services have been contracted to Synergy for a period of five years with the contract due to commence on 1st January 2014. This follows a decision earlier this year for the Government's network to be hosted by Sure.
In related news the Falkland Islands government confirmed that Martin Slater takes on the role of Interim General Manager of the Falkland Islands Development Corporation. Mr. Slater is currently employed as Development Officer with the Corporation.
Earlier it was announced that Marc Boucher, General Manager of the FIDC, on mutual agreement, would end his employment contract in January next year.
Mr. Slater will hold the job whilst a recruitment campaign is undertaken to find a substantive replacement. "This will obviously be a challenging time for FIDC but we will try to maintain a comprehensive service in the meantime".